Ducati Monster 1100 Evo review
By Kevin Ash - 26/11/2011
The Monster M900 was pragmatic, as minimal bodywork aside it was built entirely from existing parts, such as the 888 frame and 900SS engine, this at a time when Ducati was desperately strapped for cash.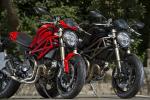 It was cunning, as it achieved Massimo Bordi's aim of stealing a slice of the cruiser market without anyone realising it was a cruiser and compromising Ducati's ideals. It was timeless, as even the very latest Monster, the 1100 Evo, looks so similar you could mistake one for the other at a quick glance. And it was popular: the combination of accessible performance with Angel Galluzzi's styling has pushed total Monster sales close to a quarter of a million.
It had to be modernised of course, and despite steady development, the need for major change became increasingly urgent, until in 2008 Ducati pushed the all-new Monster 696 out into the world, closed its eyes and held its breath... The world loved it, largely because although Ducati knew it was a completely new bike, it still looked like a Monster, still had an air-cooled V-twin, and simply rode better than before. What was there not to like, which is why that became the best selling Monster ever.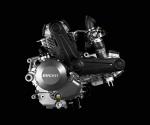 796 and 1100 followed, and the 1100 has been revised again, the headline change being a power increase from 94bhp to 99bhp (100PS, 73.5kW), the biggest output ever achieved from an air-cooled Ducati twin. There are a host of changes inspiring the Evoluzione name, including better lubrication and cooling around the exhaust valves, reshaped inlet ports and combustion chambers, and an increase in compression ratio from 10.7 to 11.3:1.
The improved combustion has allowed a switch to single spark ignition from the old twin plug heads, cleaning up the combustion chamber further, while valve lift has been increased to take advantage of the greater flow demands of the other revisions. The desmodromic valve system allows the very steep cam lobe profiles used in the new Monster where conventional valve springs would make them impossible.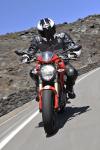 Weight is saved through the use of the same Vacural vacuum-assisted casting of the crankcases as Ducati's eight valve superbikes - this facilitates the use of more consistent and thinner wall thicknesses. The flywheel is similar to the lightweight 848's and the alternator uses compact and light rare earth magnets.
The clutch is a variation on the ADTC Adler Power Torque design used on several other Ducatis, which has a self servo action that effectively 'screws' the friction plates together when the transmission is under load, and pushes them apart on the overrun for a slipper action. It means softer springs can be used and the lever action as a result is lighter. The clutch is now wet where older 1100s had dry versions.
The exhaust is new too, a stacked twin silencer design with fat pipes snaking around the engine in a 2-1-2 layout, with a lambda probe for each cylinder ensuring accurate fuelling independently for front and rear cylinders. Like most other Ducatis, the 1100 also benefits from 7,500 mile (12,000km) service intervals.
Integrated with the engine management, and one element of the Monster's 'Safety Pack', is the first traction control system on an air-cooled Ducati. It's similar to the ones used on the company's high performance bikes but with four instead of eight levels of intervention, all accessible (although not while on the move) via a dash menu controlled by a switch on the left handlebar.
The other half of the Safety Pack is ABS, which combines Ducati software, Bosch electronics and hydraulics with Brembo hardware in what Ducati claims is one of the most sophisticated systems available on a motorcycle. In fact it's very similar to the one on KTM's SM T, but then they make the same claim, so it must be true...
On the chassis side, the main frame is the same but the aluminium subframe is new and the passenger and rider footrest hangers are now separate components. Accessory passenger grab handles are available but not standard fitment.
The suspension is new, featuring Marzocchi forks and a Sachs rear unit, with full adjustment at the front and rebound and preload adjustment at the rear. The wheels are new too, a pair of fabulous looking 10-spoke items wrapped in new Pirelli Diablo Rosso II rubber.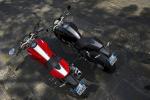 Finally there are two colour schemes available, an S4R-style red with white stripe (although it's central rather than offset to the right), and black with grey stripe.
All of which sounds great, except it's also a little worrying as the previous 1100 Monster boasted one of the very best engines in motorcycling, and if any of the changes affected that, they could also ruin it. But they haven't: even though Ducati pointed us up Mount Etna, where the air thinned by 6,500ft (2,000m) of altitude must have knocked 20bhp off that maximum, still the bike muscled its way up the road in familiar exuberant style.
The sound track is a compelling bellow of intent, supported by a delicious twittering overrun interrupted by the occasional pop and bang, all of which makes you wonder quite how the Borgo Panigale factory gets its bikes through the noise emissions tests. Maybe they've got some pictures someone doesn't want made public. Maybe Sicily was chosen for more than its glorious scenery...
Whatever, like the Diavel, the Monster is refreshingly loud even with its standard exhaust, and all the better for it. The motor provides tactile communication too, shuddering through the bike as you open the throttle, especially at low revs. It's smoother than older Ducati V-twins, even letting you drop below 2,000rpm, but isn't really happy at this level, and it rewards attempts to waft along through town on a hint of throttle with occasional lurches and coughs. But it's really not too bad now, and shouldn't put you off like the old ones would. You'll just need acclimatisation time if you used to ride a four...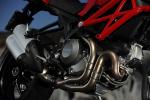 What no four does is punch like the 1100 when you turn the twistgrip in the engine's midrange. It fires forward with a force that makes a mockery of the 99bhp output, partly because the bike is very light but simply because this is one of the few bikes that makes most of its urge at speeds normal riders use on normal roads. It can be ferociously quick in fact, yet it's so obedient with such a liquid output you just don't want to stop.
It's important though to ride it appropriately. Riders who treat it like a sports bike engine will think it's not bad, although it starts to feel flat as it approaches its 8,500rpm rev limit, and it does go faster when you do this. But you fare much better if you stop trying too hard, drop the rev zone you're using to anything from 4,500 to 7,000rpm, and here the motor is supreme... the best engine in motorcycling just got better. Well, maybe after the Diavel it's the second best, but it's still a seductive mix of aluminium and steel.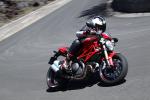 The handling is unmistakably Monster too, which means hyper sensitive to what you're doing with the bars and rather firm, especially on neglected Sicilian roads. To get the most from the bike you must learn to relax your arms more than usual and not hang onto the bars to move yourself around, or you'll be chasing the bike all over the road. Instead use your bodyweight and a touch of intuition to steer and you'll find it taking tight and accurate lines. Given more time though I'd play around with the suspension some more to dial in extra compliance.
The riding position is altered from the old Monster's with 0.79in (20mm) higher bars, although it's still fairly forward leaning, and for me the angle of the bars places quite a lot of strain on my wrists, not helped by the road harshness coming up through the forks. It's not the long reach to the controls Monsters used to be though.
The seat is reshaped for improved comfort, but the 1100 sits taller than its smaller capacity brethren with its 31.9in (810mm) reach to the ground compared with 800mm for the 796 and 770mm for the 696. Average height riders will be fine though, while I was perfectly comfortable at 6ft 3in (1.91m).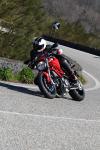 It all sets you up fine for chucking the Monster 1100 at twists and turns and popping the wheelies we weren't allowed to do (oh come on, how can you build a bike like this and then tell people they mustn't wheelie it? And you even design your traction control to allow them!). The bike is supremely agile with lots of ground clearance, immensely powerful brakes and ABS that intervenes only when your eyes are already threatening to leave home. It's vivacious, noisy, compelling and a fabulous looking creation that if you bought just to look at you'd still think it was good value.
A shame, as always, that the fuel tank is a silly size, holding only 3 gallons (13.5 litres, 3.6 gallons US), although some of the test bikes were nudging 125 miles or so without the warning lights activating. Next upgrade, include a bigger tank please Ducati, no one is put off buying a bike by a good sized fuel capacity, but plenty turn one down for having a poor range. You could easily tour on a Monster, then have a wild time when you arrive, but a 3 gallon tank definitely isn't on your side.
That's the only complaint though, and some will think I'm daft for making it on a bike like this. The rest is pure Monster 1100, only better than ever.
Next stop, half a million sales, and I bet it'll look exactly the same even then. Good, we wouldn't want it any other way.
Specifications
Model tested: Ducati Monster 1100 Evo
UK price: £8,995 on the road. Available: now
USA price: $11,995. Available end May 2011
Engine: 90-degree V-twin, air cooled, sohc desmodromic 4v, 1079cc
Power: 99bhp (100PS, 73.5kW) @ 7,500rpm
Torque: 76lb.ft (10.5kgm, 103Nm) @ 6,000rpm
Economy: n/a
Tank/Range: 3.0 gallons (13.5 litres, 3.6 US gallons)/ n/a
Transmission: Six gears, wet multi-plate clutch, chain final drive
Chassis: tubular steel trellis, single-sided aluminium swingarm
Seat height: 31.9in (810mm)
Wheelbase: 57.1in (1450mm)
Rake/trail: 24 °/ 3.43in (87mm)
Weight: 373lb (169kg) (dry)