Ducati Hypermotard 796
By Kevin Ash - 15/02/2010
When former Ducati designer Pierre Terblanche came up with the Hypermotard, he always visualised it first as having one of the Bologna factory's smaller air-cooled engines, around the 750cc level.
Market pressures though dictated that when the bike made its debut in 2007, it came with a big 1100cc air-cooled V-twin, and it was a pretty wild animal too.
Now the smaller Terblanche original is to go on sale, fitted with an 803cc engine which despite looking indistinguishable from other air-cooled Ducati twins, is entirely new. There are other changes compared with the Hypermotard's bigger brother, such as a 0.8in (20mm) lower seat, lower specification suspension (non-adjustable 43mm Marzocchi forks up front and a preload and rebound-damping adjustable Sachs shock at the rear), revised frame to reduce weight and a slipper clutch.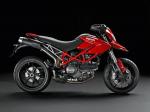 The result is a reduction in overall weight of some 26lb (12kg) over the 1100, which is substantial and noticeable as soon as you swing a leg over the bike. Fire it up and you're rewarded with that offbeat lumpy sound matched to a surprising lack of vibration which is so characteristic of the 90 degree V-twin, though without the clanking dry clutch rattle of so many Ducatis as this bike has a wet clutch. The lever action is very light, something Ducati was aiming for deliberately as it hopes to attract a number of female riders with the 796: this is the real reason for the slipper clutch, not to help hard-edged supermoto riders back the bike into turns, but to use the self-servo action that's inherent in Ducati's slipper clutch design to make it easier in traffic and for weaker wrists. Calling it a self-servo clutch would be more appropriate.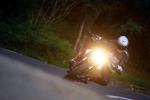 Release it and the bike pulls away with real force - it'd only feel lacking if you'd just stepped off an 1100, otherwise this is convincing and enjoyable engine to use, and in fact the 796 feels like a better balanced, easier and more natural bike than the larger version. Its reduced weight makes it more agile and also reduces the forward weight transfer that causes so much fork dive on the 1100, which in turn upsets it on the entry to corners, and even during cornering if you roll the throttle on and off or dab at the brakes.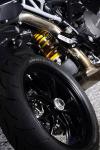 The 796 is not perfect in this respect either though. I was never completely happy with the front end of the bike as it felt too light and vague to instil complete confidence in corners, a combination it seems of an overall rearward weight bias with quick steering and those very wide bars, along with the soft and long travel suspension. Get your line right, keep the power on through the turn and relax, and it's fine, but if you shift your weight, pull on the bars or have to adjust the power or brakes, as you very often do, then the front reacts with too much sensitivity and changes the bike's line. You could put this down to the bike being a supermoto-type machine, but it's not really, other than vaguely in style. In practice it's an agile, sporting town bike, and a more tactile front end would enhance it.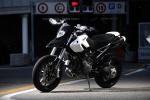 Don't be put off too much though, this is not a fatal flaw, just a trait that might irritate some faster riders. In other respects the Hypermotard will suit many people very well. It looks good, certainly, and thanks to what Ducati says is its most fuel efficient engine to date it should average around 58mpg (20.5km/l, 4.9 l/100km, 48mph US), which in turn doesn't make the silly 2.7 gallon (12.4 litres, 3.3 gallons US) tank capacity quite so restrictive, with a range of nearly 160 miles (250km).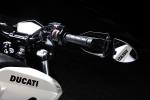 I'm still not convinced by the mirrors, fold-out items mounted on the very ends of the bars. These give a reasonable view behind, something of a novelty on a Ducati admittedly, but it's not unusually good, and they make the bike so wide they're a liability in traffic. They're designed to fold in very easily so when you're weaving past cars you don't keep clouting their mirrors but it's a pain to have to keep flipping them in and out to trade off width against rear view. Optional conventional mirrors are available, and I'd go for those while keeping the flappy ones but mostly folded in.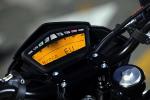 Our test ride was a mix of blasting heat and sunshine with bitter cold and violent rain, and the poorer conditions did show the bike to be harder work than a Japanese four when it comes to trickling along slowly. The gears are widely spaced and the engine not happy to be dropped below 2000rpm, so you end up revving it a little high in a lower gear, making the bike very sensitive to the throttle, or putting up with some jerkiness by lugging it at low revs in the next ratio instead. The bike does it okay but for inexperienced riders it means a little harder work.
Overriding the niggles is the engine's muscular performance, revving pretty easily and offering impressive mid-range power with the usual Ducati-perfect fuel delivery, plus a dash of style and fun that will make many riders fall completely in love with the bike.
And that surely is what it's really all about.
Price: £6,995 (matt black), £7,195 (red or white)
Available: December 2009
Donate to the Kevin Ash Fund
Kevin's funeral was held on Thursday 28th February 2013 and was well attended by family, friends and colleagues.
The Telegraph has very kindly established The Telegraph Kevin Ash Fund to assist with the education of Kevin's three daughters.
If you'd like to make a donation then you can use the PayPal 'Donate' button below which will allow you to donate from your PayPal account, or via credit or debit card. A small percentage (about 3.4%) will be retained by PayPal for the service.
Kevin's family have been touched by the generosity and messages of support from people using the website and would like to express their gratitude to those who have contributed in any way.
The donations keep coming in, thank you so much, and the family especially like it when you leave a message.