Ducati Hypermotard 1100 Evo
By Kevin Ash - 26/03/2010
Just two years after the mad Hypermotard 1100 wheelied down its first high street, Ducati has given it an all-new engine and jettisoned an amazing 7kg!
Now generally I'm not especially comfortable charging around race tracks on bikes with long travel suspension. They tend to get unstable on the entry as the suspension compresses, run wide on the exits and offer less feedback at the same time as being overly sensitive to handlebar inputs. This will be why MotoGP bikes don't look like motocrossers then...
So while Sardinia, sunshine, the tight Mores circuit and a pair of Ducati Hypermotards is hardly the stuff of nightmares, I wasn't expecting to enjoy myself as much as if something more obviously track suited had been resting nonchalantly on its sidestand in the pitlane.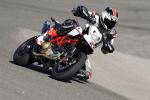 It was surprising to see the Hypermotard there at all. Well, not in the sense that I thought there'd be a row of Harleys outside, more that the Hypermotard was only introduced two and a half years ago, and while the Japanese are pulling back from their traditional bi-annual upgrades of their short shelf-life sports machines and drawing in the horns, Ducati is lining up the new models and busy upgrading the older ones, even though you'd expect something like the Hypermotard to be relatively unchanged for maybe four years.
It's not merely cosmetic either. In total the bike has lost 15.3lb (7kg), with 3.9lb (1.8kg) of that coming from the chassis. The frame looks the familiar Ducati steel trellis but it's been redesigned at the rear with the old version's forged components replaced with more tubular steel. Some additional weight has been lost through a redesign of the wiring loom, so they're clearly taking this seriously. Other chassis changes including the fitment of Streetfighter switchgear and dash.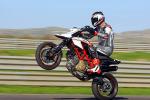 But it's the engine where the bigger stuff has happened, with almost 5kg being shed in a rework that's big enough for Ducati to call this an all new engine. The crankcases are now cast using a Vacural technique which allows for thinner walls without introducing weaknesses. But the cases are completely redesigned anyway and are substantially more compact then before, while magnesium engine covers and the alternator uses compact and lighter rare earth magnets.
The cylinder heads are new and feature deeper oil baths to keep the valve gear cool and reshaped inlet and exhaust ports for better gas flow, and in fact the heads' oil cooling is so much more effective, Ducati has fitted an oil cooler which has 85 per cent more cooling area than before. There are revised cam profiles and a new piston crown shape which makes combustion more efficient by increasing the compression ratio from 10.7:1 to 11.3:1, to the point where Ducati has been able to return to a single spark plug per cylinder, where the old model had two. Further weight has been lost by using a lightweight, 848-style flywheel. The result is a 5bhp increase in power to 95bhp (69.9kW), with a little more torque.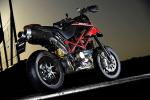 There are two models, the Hypermotard 1100 Evo and the SP version, which has an Öhlins rear shock, higher spec 50mm Marzocchi forks, Monobloc Brembo front callipers and detailing such as carbon fibre cambelt covers. The SP sits 30mm higher than the Evo and has more wheel travel front and rear, as well as 20mm higher bars, Pirelli Diablo Supercorsa SP tyres and Ducati's datalogging system, otherwise it's the same as the Evo, although for our test Ducati fitted the optional Termignoni exhaust, releasing another 5bhp.The Evo remained stock though.
The changes over the old model have made a substantial difference, and to exactly the areas I was concerned about as I lined up for the track ride. I took the SP out first (that's the white one in the images) and for the first time on a bike of this type immediately felt at home and comfortable on it. The steering is more precise and now the bike goes exactly where you point it both under braking and with the power on, and while it still responds eagerly to bar pressure it no longer feels flighty. The suspension works brilliantly, coping with on-off power changes, rapid left-right flips and severe braking without feeling like it's going to give up and tip you off. That's especially impressive considering the huge power of the brakes, which are capable of hauling up this bike as effectively as just about anything I've ridden.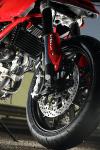 The Evo lacks the fine precision of the SP and does tend to push wider on corner exits but it's still a handy tool on the track. It's a little softer and will make a better road bike, but for once I think this is less important as few riders who choose a Hypermotard will want easier manners if that means sacrificing sharpness and track ability. It's hardly a sensible option to start with, is it? In fact it was the introduction of the less intimidating Hypermotard 796 which allowed Ducati to sharpen the focus of the 1100 - the 796 is for those who like the look but not the edginess, while the 1100 is for the performance cognoscenti.
The engine meanwhile is absolutely seductive. It's dripping with torque in the low and mid ranges, and despite being air-cooled still loves being revved. It doesn't mind if you get your gears wrong and in fact often helped at Mores where I found shifting up early and relying on the torque was just as quick as red-lining it everywhere.
It's not a sensible bike though. If this was your only motorcycle you'd not be the sort to go touring or even very far from home at all, as the 2.73 gallon (12.4 litres, 3.3 gallon US) tank will mean you're refilling every 80 miles or so. And it's not cheap either, with the Evo priced at around £9,100 and the SP at a jaw-dropping £10,300.
But if this is the sort of bike you want, then this is just your sort of bike. Bonkers.
Donate to the Kevin Ash Fund
Kevin's funeral was held on Thursday 28th February 2013 and was well attended by family, friends and colleagues.
The Telegraph has very kindly established The Telegraph Kevin Ash Fund to assist with the education of Kevin's three daughters.
If you'd like to make a donation then you can use the PayPal 'Donate' button below which will allow you to donate from your PayPal account, or via credit or debit card. A small percentage (about 3.4%) will be retained by PayPal for the service.
Kevin's family have been touched by the generosity and messages of support from people using the website and would like to express their gratitude to those who have contributed in any way.
The donations keep coming in, thank you so much, and the family especially like it when you leave a message.