Ducati Facing US Lawsuit
By Kevin Ash - 15/01/2012
Ducati has been issued with a class action law suit in the United States following extensive problems with fuel tank deformation.
The action, launched in California where Ducati USA is based, seeks a permanent solution and compensation for owners of the 50,000 Ducatis sold in North America since 2004 with plastic moulded tanks, including Monster, Multistrada, 848, 1098 and 1198, Streetfighter, Sport Classic and Hypermotard models, which have an extensive and well-documented history of fuel tank problems.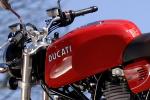 The lawsuit claims the tank material is incompatible with the fuel and distorts over a period of time, usually several months, during which time the tank can come loose on its mountings, swell enough to interfere with the steering on full lock and leak through the fuel pump mounting.
Ducati has been routinely replacing affected tanks under goodwill warranty on bikes up to five years old, often more than once. But the suit says that this is not satisfactory as the replacement tanks are made of the same material as the originals and the problem along with its associated safety issues recurs. It demands that all affected tanks are replaced with ones that are not affected by the fuel.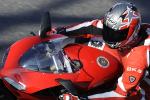 The second and potentially far more damaging claim in the suit is that Ducati should reasonably have known about the problem but nevertheless continued to sell motorcycles with allegedly unsafe fuel tanks. It states that this amounts to unfair, unlawful and fraudulent business practice which has led to injury and financial loss.
A full copy of the lawsuit can be seen here:
The blame for the problem is being placed on the high proportion of ethanol used in American petroleum. The USA's Energy Policy Act of 2005 set renewable fuels standards which have meant ethanol produced mostly from corn is blended with petroleum, at levels now around 10 per cent. But it's thought to be a chemical reaction with the ethanol which is causing the bikes' tanks to degrade. So far the issue hasn't been reported to any extent outside the USA.
Ducati 2011 New Models - Could US Diavel deliveries be affected?
Donate to the Kevin Ash Fund
Kevin's funeral was held on Thursday 28th February 2013 and was well attended by family, friends and colleagues.
The Telegraph has very kindly established The Telegraph Kevin Ash Fund to assist with the education of Kevin's three daughters.
If you'd like to make a donation then you can use the PayPal 'Donate' button below which will allow you to donate from your PayPal account, or via credit or debit card. A small percentage (about 3.4%) will be retained by PayPal for the service.
Kevin's family have been touched by the generosity and messages of support from people using the website and would like to express their gratitude to those who have contributed in any way.
The donations keep coming in, thank you so much, and the family especially like it when you leave a message.