Ducati AMG Diavel
By Kevin Ash - 25/09/2012
Ducati has unveiled a special Diavel inspired by the company's tie-up with performance Mercedes specialist AMG.
The Diavel AMG Special Edition is based on the Diavel Carbon and includes AMG signature 5-spoke wheels, carbon fibre radiator grills with aluminium trim, an AMG-style exhaust and unique AMG ribbed Alcantara seat.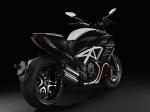 Each Diavel AMG engine has its cam timing set by hand and is authenticated with the engine technician's signature engraved on the left side engine casing. There's also a numbered plaque on the fuel tank.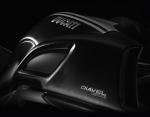 No price has been announced as the bike won't be available until later this year, but expect little change from £17,000.
Donate to the Kevin Ash Fund
Kevin's funeral was held on Thursday 28th February 2013 and was well attended by family, friends and colleagues.
The Telegraph has very kindly established The Telegraph Kevin Ash Fund to assist with the education of Kevin's three daughters.
If you'd like to make a donation then you can use the PayPal 'Donate' button below which will allow you to donate from your PayPal account, or via credit or debit card. A small percentage (about 3.4%) will be retained by PayPal for the service.
Kevin's family have been touched by the generosity and messages of support from people using the website and would like to express their gratitude to those who have contributed in any way.
The donations keep coming in, thank you so much, and the family especially like it when you leave a message.