Ducati 1198SP
By Kevin Ash - 28/04/2011
It almost doesn't matter what you're riding when you go out on a circuit as historic as Imola for the first time. But when it's a flagship Ducati superbike, that does help a lot.
The Autodromo Enzo e Dino Ferrari is the home track of Ducati as well as the iconic car factory whose founder and son it's named after, and scene of some truly momentous events, from the tragic death of Ayrton Senna (and let's not forget Roland Ratzenberger the previous day) in 1994, to the improbably glorious. It was here that Paul Smart won arguably one of the greatest motorcycle races of the 20th century - read about it here, it really is an amazing story.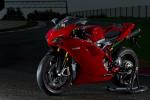 For a few laps I was Paul Smart... Okay, rather less gloriously, but I was at least seated on the 2011 Ducati 1198SP, which replaces the 2010 1198S with some small tweaks and added specification. It's only a minor facelift rather than proper new model, but the changes are certainly useful.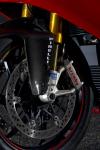 The highest profile is the upgrade to top spec Öhlins suspension, front and rear, to which are unsurprisingly attached Brembo Monobloc callipers. The list of acronyms includes DTC, Ducati's excellent and sophisticated traction control system, and DDA, the data acquisition that records your speed, throttle position, gears and braking. These were present on the old S, but the SP adds DQS, the first quick-shifter gearchange on a production Ducati.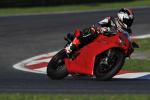 The superbike at last comes with a slipper clutch, and just as useful is the 0.55 gallon (2.5 litre, 0.66 US gallon) extra capacity of the aluminium fuel tank. You can see it's aluminium by the unpainted band down the centre, and you can feel it's larger when you grasp it with your knees. On many bikes this would be retrograde but the 1198's tank is slim to a fault (aside from the silly 15.5 litre capacity) as it's difficult to get any grip during hard braking.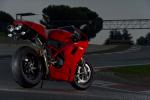 The braking is as you'd expect, almost violently powerful yet eminently controllable, although from the crate the bike is set up much too soft for track use, which is a surprise. Being Öhlins there's a huge range of adjustability, although I didn't get enough time to experiment so we'll have to assume the excessive dive is correctable, as well as the swaying rear end in high speed, bumpy corners. But then it's not a wild assumption, every factor is known here, and it's all known to work superbly. More time to play around Imola would have been good though, but as it was, the SP was also pushing wide as you applied power coming out of turns. As Öhlins aside it's no different to the S I'm happy expecting that can be cured too.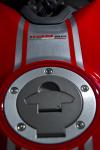 The larger tank does help you take some load through your legs instead of just the wrists (which were pumping up uncomfortably on the 848 Evo we were riding on the same day), and the other new features were helpful as well. Engine braking on the big twins in fact isn't as severe as Japanese fours, but still it's easier to bang down the gears and let the clutch do the work in keeping the back wheel turning, while the traction control lets you be clumsy as you like with the throttle on the exit and all the bike does is shuffle and shift rather than spit you out of the atmosphere.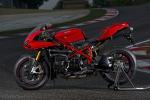 The gearchange works as it should, a touch of the lever with no throttle back-off finding the next ratio seamlessly... just as long as you can find the lever okay. I was often pushing my weight well forward to keep the front wheel down, and in that position I couldn't lift my toe high enough to change up easily. Again, that's a simple adjustment more track time would have allowed.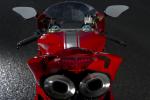 Everything else is pure 1198, and nothing at all wrong with that. Even without the Imola backdrop, the bike is animate, evocative machine that communicates vividly and satisfies immensely, as well as looking knockout and oozing class and character. It's also beautifully finished, and as with other current Ducatis, no longer unusually expensive to maintain, unless you're regularly fitting the original, super grippy Diablo Supercorsa SP tyres, in which case you could well need two sets for a single full track day. And that's not cheap...
But then at £17,495 (only £600 more than the 2010 1198S), the 1198SP is not a cheap motorcycle. But if you've got it, it's worth it.
Model tested: Ducati 1198SP
Price: £17,495
Available: December 2010
Engine: 90 degree V-twin, liquid cooled, dohc desmodromic 8v, 1198.4cc
Power: 168bhp (170PS, 125kW) @ 9,750rpm
Torque: 97lb.ft (131.4Nm) @ 8,000rpm
Economy: n/a
Tank/Range: 4.0 gallons (18 litres, 4.75 US gallons)/ n/a miles
Transmission: Six gears, wet dry-plate clutch, chain final drive
Chassis: Tubular steel trellis
Seat height: 32.2in (820mm)
Wheelbase: 56.3in (1430mm)
Rake/trail: 24.5 °/ n/a
Weight: 370lb (168kg) (dry)