Cologne 2012 Round Up
By Kevin Ash - 30/10/2012
No surprise that BMW debuted its all-new liquid-cooled boxer at this year's Cologne Show, but there was a big surprise at the Yamaha conference, and it wasn't a new bike!
The new R1200GS was finally unveiled and as expected it's giving us more of the very successful same. The engine still has the appearance of air-cooling but now the intake flows into the tops of the cylinders with the exhaust exiting beneath. Power is up to 123bhp (125PS, 92kW) with a torque peak of 125Nm and more torque across the rev range than the old model.
New features include semi-active suspension, similar to that used by Ducati on the 2013 Multistrada, and multiple settings for the ABS abd ASC traction control as well as five overall riding modes which change multiple system settings simultaneously, again like the Multistrada.
Both dip and main beam are LEDs, with the option of automatic activation in the dark. During daytime separate running lights are used. The styling doesn't stray far from the traditional and unmistakable GS look.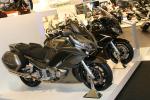 Yamaha once again displayed a lacklustre package of changes, the biggest of which are minor changes to the decade-old FJR1300, which includes electronically adjustable suspension, frontal bodywork changes, a halogen/LED headlight combination and a small power increase.
But in a statement reminiscent of Kawasaki's admission in 1999 that it had been geting things wrong, Yamaha in effect confirmed it had been neglecting western markets in recent years, but was now committing itself once again to produce new models and returning to its core values.
I shall publish a revealing interview with senior Yamaha staff from Europe and Japan later, but in the meantime the company used Cologne to unveil an innovative crossplane crank, three-cylinder engine which will power a range of new models, and which looks set to take over from the ubiquitous fours. There's no question, we are witnessing a watershed moment in Yamaha's history.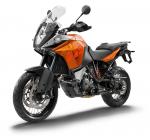 KTM revealed more details about its 1190 Adventure, which uses a modified version of the RC8 superbike engine making 148bhp (150PS, 110kW). This is the most road-oriented KTM Adventure yet, coming with a 19 inch front wheel and 17 inch rear, while the Adventure R is more off-road biased with its 21 inch front and 18 inch rear. The bike comes with switchable ABS and four-setting traction control plus electronic suspension offering a choice of four spring preload and three damping settings.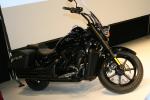 Suzuki used Cologne to show us a new Burgman 650, claimed to be 15 per cent more economical than before, and the Intruder C1500T, claimed to be the most powerful cruiser in the class (meaning up to 1600cc), and designed for touring with leather-covered plastic panniers fitted as standard. The Hayabusa gets Brembo Monoblocs and ABS, but more interesting is the 'concept' V-Strom 1000, which will be a 2014 model when development is finished, This looks likely to come with the usual adventure bike essentials including electronically adjustable suspension.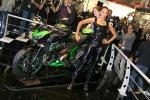 Honda has confirmed the CB1100 will be coming to Europe, while Kawasaki unveiled the Z800, a bike we know plenty about already. In summary this is based on the current Z750 - Europe's best selling naked bike - but features a larger engine (which you'd have guessed), with new brakes, suspension, dash and styling.
I'll be going into much more depth on all of the new bikes shortly.
Donate to the Kevin Ash Fund
Kevin's funeral was held on Thursday 28th February 2013 and was well attended by family, friends and colleagues.
The Telegraph has very kindly established The Telegraph Kevin Ash Fund to assist with the education of Kevin's three daughters.
If you'd like to make a donation then you can use the PayPal 'Donate' button below which will allow you to donate from your PayPal account, or via credit or debit card. A small percentage (about 3.4%) will be retained by PayPal for the service.
Kevin's family have been touched by the generosity and messages of support from people using the website and would like to express their gratitude to those who have contributed in any way.
The donations keep coming in, thank you so much, and the family especially like it when you leave a message.