Cologne 2010
By Kevin Ash - 21/02/2011
The first of the year's big motorcycle shows early in October saw several manufacturers unveiling new models, before the majority reveal their full 2011 ranges in Milan in November.
I'll be bringing you reviews and more details in the next few months, but in the meantime here's a summary of the most important models.
BMW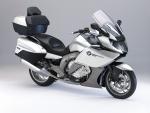 I've covered many details of the German factory's two new 1600cc, six-cylinder touring bikes already but it's only now that pictures have been released. No big surprises visually, but it's worth noting how well BMW has disguised the bulk of the 1600 GTL and its sportier partner, the 1600 GT. Beneath the bodywork both bikes are identical, including the 158bhp engine which is claimed to have a huge spread of torque - 70 per cent of the maximum is available from just 1500rpm - as well as being outstandingly smooth, as a six should be.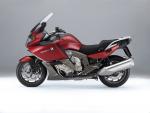 But the bikes also come with an array of impressive new technology, including an optional self-levelling headlight that produces a horizontal beam even when the bike is leaning for corners. In depth features soon, riding reviews probably early next year.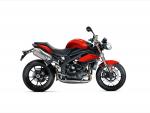 Triumph
I'll be reviewing Triumph's new Speed Triple very soon so full details will come then, and it's certainly exciting. The current model is still class leader, but for 2011 it's being almost entirely renewed. The 1050cc engine is upgraded to produce eight per cent more torque at 82lb.ft and an extra 5bhp at 133bhp, while the chassis is all new, despite looking similar to before, and thanks to less weight and sharper steering geometry promises to be more agile as well as faster. Controversially, the Speed Triple's circular twin chrome headlights have been replaced with black 'foxeye' units, otherwise Speed Triple fans should be happy.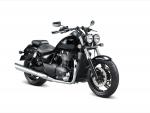 The new Thunderbird Storm's power and torque are boosted by the fitment as standard of Triumph's previously optional engine oversize kit for the Thunderbird, increasing capacity by 100cc to 1700cc. Power and torque are increased, while the bike is finished with a blacked-out, minimalist look.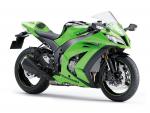 Kawasaki
The company has responded to criticism of a tired and unadventurous range with four new models at Cologne, including an all-new flagship superbike, the Ninja ZX-10R. This features a host of high tech features designed to help it match BMW's S1000RR, but the headline feature surely is the claimed power output of a massive 197bhp, while the bike is a full 22lb (10kg) lighter than the old model, which was no heavyweight. The frame, geometry, wheels and suspension are all new, and the bike also features an ultra high tech traction control system and optional race-oriented ABS brakes, along with three different engine power mode options. On paper at least it looks a match for the German bike.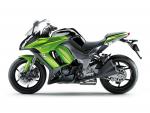 For less extreme high performance, Kawasaki has introduced the Z1000SX. This in effect a Z1000 fitted with a full fairing and larger tank, and as such could well be a surprise hit of 2011. Power is 135bhp and the tank holds a useful 4.2 gallons (19 litres). It's also very good looking, which will do it no harm.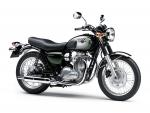 Triumph's Bonneville is under attack from Kawasaki's new W800, taking over from the discontinued (and underpowered) W650 as the company's entry level retro. The parallel twin is a stunning looking bike, more so than the Triumph in fact, and technically interesting too for the shaft and bevel-gear-driven overhead cam. The 773cc capacity should ensure more lively performance, and hopefully the front forks will now be reasonably well damped, unlike the W650's.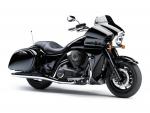 The Voyager Custom follows the US 'bagger' theme, meaning it's stripped down, blacked out and generally mean looking, and although it's closely based on the existing VN1700 it features a lot of unique bodywork components.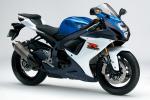 Suzuki
Despite a third of its dealer network being closed because of poor sales, there's nothing radical yet from Suzuki. But GSX-R fans should be happy with the all-new 600 and near-identical 750, especially the fitment of cutting edge Brembo Monobloc front brakes. The bikes are a very impressive 20lb and 18lb (8kg and 9kg) lighter than the 2010 versions, with more power and thanks to improved efficiency, also with 10 per cent better fuel economy. The formula is long established but it works and Suzuki's very good at it.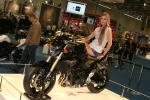 It's taken the company a long time to do the obvious and produce a Kawasaki Z750 rival, but that's what the GSR750 is. The bike uses a detuned version of an older GSX-R750 engine with sharp styling and high spec chassis components, and should score high sales in Europe generally, and maybe the UK too.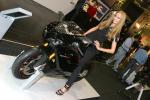 Ducati
Ducati will be showing its most important new models at its home show in Milan, but it still unveiled the fabulous 1198SP superbike in Cologne. This includes all the electronics found on the stock 1198, including traction control, on-board data logging and the new electronic quickshift gear change system, and adds top quality Öhlins suspension, a larger capacity, lightweight aluminium fuel tank and various lightened chassis components, including very light Marchesini wheels.
Test coming very soon...
Donate to the Kevin Ash Fund
Kevin's funeral was held on Thursday 28th February 2013 and was well attended by family, friends and colleagues.
The Telegraph has very kindly established The Telegraph Kevin Ash Fund to assist with the education of Kevin's three daughters.
If you'd like to make a donation then you can use the PayPal 'Donate' button below which will allow you to donate from your PayPal account, or via credit or debit card. A small percentage (about 3.4%) will be retained by PayPal for the service.
Kevin's family have been touched by the generosity and messages of support from people using the website and would like to express their gratitude to those who have contributed in any way.
The donations keep coming in, thank you so much, and the family especially like it when you leave a message.