BSB British Super Balloon!
By Kevin Ash - 30/10/2010
Oxford residents were left gasping in amazement last Friday as a monster balloon in the shape of a British Superbike race machine complete with rider drifted across the city.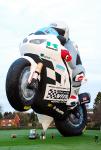 The balloon, believed to be the biggest tailor-made hot-air balloon in the world, was commissioned by bike dealer and BSB sponsor George White Superbikes, and it will be appearing at every round of BSB as well as a number of other events, conditions allowing.
(click on images)
While the balloon could be seen as a comment on bike price inflation, hopefully it will give sales a lift and see them fly out of showrooms. Otherwise it's just a load of hot air and will be put on the back burner as another basket case idea that's brought George White down to earth.
Donate to the Kevin Ash Fund
Kevin's funeral was held on Thursday 28th February 2013 and was well attended by family, friends and colleagues.
The Telegraph has very kindly established The Telegraph Kevin Ash Fund to assist with the education of Kevin's three daughters.
If you'd like to make a donation then you can use the PayPal 'Donate' button below which will allow you to donate from your PayPal account, or via credit or debit card. A small percentage (about 3.4%) will be retained by PayPal for the service.
Kevin's family have been touched by the generosity and messages of support from people using the website and would like to express their gratitude to those who have contributed in any way.
The donations keep coming in, thank you so much, and the family especially like it when you leave a message.