Bridgestone Survey
By Kevin Ash - 30/10/2010
Only a fifth of bike riders want to see tougher penalties for drivers who cause death by careless driving.
According to a survey in the UK by the world's biggest tyre manufacturer, Bridgestone, just 22 per cent of motorcyclists think the law is not tough enough on careless driving even when the consequences are fatal.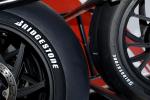 This is despite the majority of motorcycle accidents involving other vehicles being the fault of car drivers, which suggests most riders are happy with the law the way it is. Yet almost half of the bike riders surveyed cited car drivers as the biggest problem on the roads, although bizarrely they also said that littering by motorists and their passengers leads to major hazards, causing them to swerve and have accidents.
Quite what is being thrown out of cars to cause this isn't clear...
Less than a third of bike riders singled out the poor condition of the roads including potholes as a major problem, even though British roads are now more neglected and damaged than they have ever been. It's thought that several bike riders have died recently as a result of hitting deep potholes following the severe winter.
On a lighter note, the pillion most riders would hate to have is Gordon Brown, followed by Jeremy Clarkson.
Donate to the Kevin Ash Fund
Kevin's funeral was held on Thursday 28th February 2013 and was well attended by family, friends and colleagues.
The Telegraph has very kindly established The Telegraph Kevin Ash Fund to assist with the education of Kevin's three daughters.
If you'd like to make a donation then you can use the PayPal 'Donate' button below which will allow you to donate from your PayPal account, or via credit or debit card. A small percentage (about 3.4%) will be retained by PayPal for the service.
Kevin's family have been touched by the generosity and messages of support from people using the website and would like to express their gratitude to those who have contributed in any way.
The donations keep coming in, thank you so much, and the family especially like it when you leave a message.