Brand New Nortons Found!
By Kevin Ash - 16/10/2010
Eleven brand new Norton Commando 850s have been unearthed in Belgium, still in their crates!
The bikes are part of a sale of the stock of classic bike shop Motorshop Podevyn, closing after the death of its owner, which includes almost 100 old motorcycles as well as vast amounts of spare parts and tools.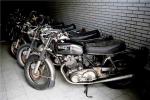 Other interesting machines include a new and crated Les Harris Matchless G80 from 1989, a space frame Norton race bike which appears to be ex Peter Williams, and a Triumph Trident café racer in what appears to be a Yamaha race bike frame.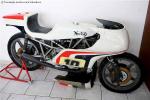 The auction takes place online and runs from April 19 to April 26, with viewing on April 24-25. Full details are at http://www.troostwijkauctions.com/uk/motorshop-podevyn/01-13018/
Donate to the Kevin Ash Fund
Kevin's funeral was held on Thursday 28th February 2013 and was well attended by family, friends and colleagues.
The Telegraph has very kindly established The Telegraph Kevin Ash Fund to assist with the education of Kevin's three daughters.
If you'd like to make a donation then you can use the PayPal 'Donate' button below which will allow you to donate from your PayPal account, or via credit or debit card. A small percentage (about 3.4%) will be retained by PayPal for the service.
Kevin's family have been touched by the generosity and messages of support from people using the website and would like to express their gratitude to those who have contributed in any way.
The donations keep coming in, thank you so much, and the family especially like it when you leave a message.