BMW Triple Black GS Adventure
By Kevin Ash - 25/09/2012
BMW has unveiled an all black special edition of the top selling GS Adventure called the Triple Black (even though it has two shades of grey...).
The colours might not sound exciting but black sells on most bikes, and it does look good in a dark and menacing kind of way. Components usually left in silver or plain metal, such as the forks, sections of engine, rear subframe, swingarm and cylinder covers, are instead sapphire black, granite grey or asphalt grey.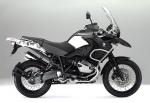 A Triple Black version of the stock R1200GS went on sale in 2010, the Adventure adds its huge 7.3 gallon (33 litre, 8.7 gallon US) tank, taller and better screen, wire-spoked wheels, engine bars and longer travel suspension.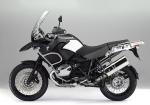 The bike is available now in UK dealerships at £11,730.
Donate to the Kevin Ash Fund
Kevin's funeral was held on Thursday 28th February 2013 and was well attended by family, friends and colleagues.
The Telegraph has very kindly established The Telegraph Kevin Ash Fund to assist with the education of Kevin's three daughters.
If you'd like to make a donation then you can use the PayPal 'Donate' button below which will allow you to donate from your PayPal account, or via credit or debit card. A small percentage (about 3.4%) will be retained by PayPal for the service.
Kevin's family have been touched by the generosity and messages of support from people using the website and would like to express their gratitude to those who have contributed in any way.
The donations keep coming in, thank you so much, and the family especially like it when you leave a message.