BMW R1200RT 2010
By Kevin Ash - 11/11/2010
While the Japanese draw in the horns during the recession, so BMW keeps on pumping out new models, and not just new ones but good and great new ones.
This is why with world markets falling by 25 per cent or so, BMW's total output was down only 10 per cent, gaining global market share which will be rewarded by big sales increases once the recession turns around. That's the plan anyway...
The 2010 R 1200 RT is more facelift than new model, but the changes go beyond the cosmetic and include significant updates to the engine. Since 1997 the company's signature eight-valve boxer twin motors have featured a single camshaft located alongside the valves, operating them via stubby pushrods and rocker arms. This wasn't quite an overhead cam nor a conventional pushrod design, instead being called a high cam layout. The idea was to modernise the motor as much as possible without making it excessively wide, as a normal single overhead cam would.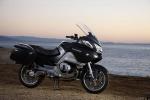 Then two years ago a new double overhead cam version of the motor was produced, appearing in the exotic HP2 Sport. This was clever, with each camshaft operating one inlet valve and one exhaust valve, a move made to allow the camshafts to be parallel to the crankshaft so they could be driven from it by chain. It meant some more complex engineering as the cam lobes had to be skew ground to allow for the valves meeting them at not quite 90 degrees, but even this was turned to advantage. Once it was decided to go for skew-ground cams, BMW went all the way and designed MV Agusta-style radially-arranged valve cylinder heads. These are more compact than conventional pent roof heads which means the flame front reaches the furthest edges sooner and combustion is more efficient. Gas flow is better too.
Now this engine has migrated into mainstream models such as the R 1200 GS and this, the RT touring bike. The 130bhp output of the HP2 Sport has been tamed to an easier 109bhp (110PS, 81kW), the same as the old RT motor in fact, but the peak torque is slightly up, and more importantly the amount of torque available at lower revs has increased significantly.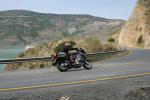 Well that's what the graphs say, and riding the bike in a reasonably warm southern Spain it was certainly noticeable how the new RT pulls away more sharply from a standstill and drives out of corners with more muscle. It's not a major difference though, and if you hadn't been primed to look out for it, or ridden old and new back to back, you quite possibly wouldn't notice.
There are other clues though, such as the deeper exhaust note, the reduced need for clutch slipping when you're pulling away loaded up with a passenger up a steep hill, and at last, a reduction in the high frequency, tingling vibration that characterised all the high cam boxer twins when revved hard. This was generated by the valve gear, and with that gone, so are those particular vibes. Not that it makes a big difference as this is an engine you tend to ride on its mid-range output, even though now it is a more willing revver and will spin 500rpm higher than before, to 8,500rpm.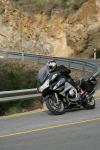 But it does still shake, a more chunky vibration than the old buzziness that intensifies with engine load - cruise at 85mph (140kph) or so on the level on a light throttle and the bike is smooth, but give it headwind or hill or an extra 10mph (15kph) and with more throttle to maintain speed the vibration does increase. Some riders won't mind, especially as it does let you know how hard the engine is working, but for others it will start to become annoying. This is a shame as the old version was smoother in this respect. It's also something of a puzzle as the new GS features the same motor, yet the vibration is a lot less evident. The extra torque is also much more noticeable in the adventure bike.
Otherwise this is a fine engine, lacking the ferocious power of BMW's four-cylinder K-series of course but still with plenty for most touring riders, and with more character as you'd expect from a twin.
The bodywork has been altered at the front, partly for a less bulky look but also to improve airflow around the rider, and this has worked well. With the electric screen fully raised, wind protection is outstanding, better than any of the bike's rivals, with no significant turbulence, while dropping the screen directs a cooling breeze to the rider's head, but still noise and turbulence aren't an issue.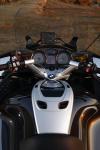 The dash has been subtly updated too for a more modern mien but is essentially the same as before, unfortunately with the same tendency to show up reflections badly in some circumstances, enough to have you shifting your head in order to be able to read the comprehensive information displayed. And if your RT is fully specced up (as most are) there's a lot to see, including economy and range, output of the heated grips and seat, ambient temperature, tyre pressures and how the superb electrically adjustable suspension is set. ESA II alters damping, spring preload and very cleverly even the spring rate (the main difference from the original ESA), according to the load and riding style you toggle via a single button on the left bar, and it works well enough to justify its additional cost.
The rest of the RT is as you were, and nothing at all wrong with that as it was always one of the very best touring bikes you could buy, its big advantage over its mostly four-cylinder rivals being its lighter weight. It's some 88lb (40kg) less than a Yamaha FJR1300 for example, and combined with its exceptional stability makes the RT a lot more manageable than some, important when a bike is this bulky.
At the 47mpg (16.6km/l, 6.0l/100km, 39mpg US) the dash was indicating in mixed riding the range is about 250 miles (400km), a healthy distance for a tourer, although my experience of BMW's on-board computers is typically they're optimistic. The bike will still cover a good 220 miles (350km) ridden pretty hard though, and with an easy throttle hand will go for 270 miles (430km) between fill-ups.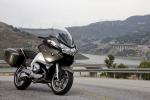 If you ride hilly terrain while loaded, the extra torque will be useful compared with the old model, otherwise it's probably not worth upgrading as the improvements are more incremental than major. But still this is a fine touring bike, for many riders the very best they could buy - they'd not want massive power but would like the wieldiness, especially if they're shorter and specify the low seat options. Worth getting a test ride to see how you get on with the vibration though. And while you're there, grab a go on a 1200GS if you can: technically it's not as efficient as the RT, the wind buffets your more and so on. But after the punchy, lively and wackily styled GS, the RT just feels a bit... well, like an old bloke's bike.
UK price: From £11,775 (high spec SE version £12,880)