BMW R1200GS 2010
By Kevin Ash - 21/05/2010
If it ain't broke, don't fix it- but for bike manufacturers, doing nothing is a luxury they can't indulge in, even when it comes to a machine as towering - metaphorically as well as physically - as BMW's seminal R1200GS.
Its rivals are constantly being updated, and new ones appear too, all after a larger slice of the lucrative big trail bike market created then dominated by BMW with the GS series.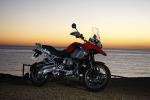 Tampering with a winning formula comes with its own risks, but BMW understands exactly why one in two riders in this sector choose a GS, so it's managed to keep building on the success rather than interfere with it. The 2010 R1200GS is a facelift machine rather than major new model, although ironically its face has been left unchanged, it's the engine which has been treated to the development work. The chassis and cosmetics are as you were.
The motor now features the double overhead cam cylinder heads (technical feature to come shortly) first used on the HP2 Sport, although in a lower state of tune on the GS better to suit its role. As a result, power is up five per cent to 109bhp (81kW) while torque is up a little to 88lb.ft (120Nm). The engine's rev ceiling has been lifted 500rpm to 8,500rpm.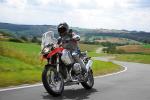 It doesn't sound like much considering the effort, nor does it seem especially relevant to the typical GS rider, but what the cold figures disguise is the improvement elsewhere in the rev range, specifically in the low and mid range. The bike feels significantly livelier than before, like a really eager big supermoto almost, punching enthusiastically out of corners and even capable of lifting its front wheel with a bit of help from the clutch in third gear. The old version wouldn't do that, and while that might not interest everyone, it does illustrate the extra thrust available.
The throttle response is sharper too, and when you do spin the engine hard it's a lot more willing to rev, especially beyond 7,000rpm. It's at this level that you also notice those tingling vibrations which have always plagued these motors at high revs are now gone. It still does vibrate of course but not in that nasty, intrusive way at the top of its rev range - the source was the previous high cams and rockers, and now they're out, so are those particular vibes.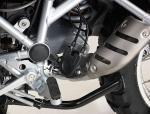 The bike even sounds better, thanks to a flap in the exhaust system which restricts output at the revs where noise emissions are measured but opens up the rest of the time to give the bike a distinctive, deep and muscly tone. The new bike sounds quite different to the old one (and better) as a result, but this is likely responsible for a dip in the torque curve from 4,500 to 5,500 rpm, where it does feel less lively. It's not fatally so, but the mechanism is rather exposed - it's a box with a couple of Bowden cables coming out on the exhaust pipe just in front of the rear wheel - which is a concern for longevity but does make it suspiciously easy to disconnect (leaving the flap open of course-).
Despite the extra power and acceleration, fuel consumption is unaffected, which is good news not just for your wallet but also the bike's range. The 4.4 gallon (20 litre) tank will take you 210 miles at the 47mpg I was getting in mixed use, and many riders will exceed those figures quite comfortably. In other respects the bike is unchanged, aside from new colours (metallic grey or black, solid red or white), which means this is still one of the world's most useful motorcycles.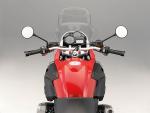 Its sporting side has been enhanced by the engine's new willingness and the chassis copes surprisingly well with being chucked around, especially with the excellent ESA II suspension option taken up (and in the UK at least some 90 per cent of 1200GS models are high spec versions with ESA and many other extras). It tours very well too, adding comfort and a commanding riding position to that useful range, and wind protection is pretty good seeing as all you get is a perspex screen (which is manually adjustable), though the other bits and bobs poking into the airflow in front of you all play a part.
The shaft final drive and Telelever front suspension with its anti-dive geometry appeal to many riders too, although their additional unsprung mass compared with chain drive and telescopic forks does result in a more choppy and less responsive ride quality. The bike sometimes thumps across ridges and potholes, for example.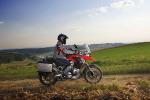 The GS though is rare in having real off-road ability, and while it's not a motocrosser, in the right hands it can still be shockingly effective as a trail bike in difficult terrain. It's only when it's asked to get airborne that the mass really shows up (on landing again that is, when it bottoms out readily), or of course if you drop it.
BMW says it has also been working hard on improving the build quality and reliability, and so it should as these have been unacceptable in recent years, especially on a bike designed to take you to wild and remote places. Only time will tell and there's no doubt the company's reputation has taken a hit because of problems across its range, but meanwhile the new GS will continue to sell very well, and deserve to.
So while the cylinder heads are radically new, the 2010 R1200GS is in practice an effective evolution of the 2009 model. Few will complain about that.
Donate to the Kevin Ash Fund
Kevin's funeral was held on Thursday 28th February 2013 and was well attended by family, friends and colleagues.
The Telegraph has very kindly established The Telegraph Kevin Ash Fund to assist with the education of Kevin's three daughters.
If you'd like to make a donation then you can use the PayPal 'Donate' button below which will allow you to donate from your PayPal account, or via credit or debit card. A small percentage (about 3.4%) will be retained by PayPal for the service.
Kevin's family have been touched by the generosity and messages of support from people using the website and would like to express their gratitude to those who have contributed in any way.
The donations keep coming in, thank you so much, and the family especially like it when you leave a message.