BMW Imposes Software Rev Ceiling on S1000RR
By Kevin Ash - 30/10/2010
BMW has added a software patch to all new S1000RR models limiting the revs to 9,000rpm for the first 600 miles (1,000km).
The company says this is in response to excessive wear being found on unspecified components in machines being run by race teams using the engines hard from new.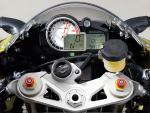 While a few customers had their new bike collection dates postponed, the patch has now been downloaded into all new bikes and there are no further delays, according to BMW. The software will be overridden by the dealer at the first service.
BMW's Scott Grimsdall said: "We don't expect any problems with road bikes, this is merely being done as a precaution. BMW is being very cautious with this bike because it is so new and high profile, and it has some new materials in the engine that need a bedding in period."
Donate to the Kevin Ash Fund
Kevin's funeral was held on Thursday 28th February 2013 and was well attended by family, friends and colleagues.
The Telegraph has very kindly established The Telegraph Kevin Ash Fund to assist with the education of Kevin's three daughters.
If you'd like to make a donation then you can use the PayPal 'Donate' button below which will allow you to donate from your PayPal account, or via credit or debit card. A small percentage (about 3.4%) will be retained by PayPal for the service.
Kevin's family have been touched by the generosity and messages of support from people using the website and would like to express their gratitude to those who have contributed in any way.
The donations keep coming in, thank you so much, and the family especially like it when you leave a message.