Bike Trac
By Kevin Ash - 11/01/2012
It's not often I've harboured a hope that my motorcycle will be stolen.
But after a year of using the Bike Trac tracking system on my Ducati Multistrada, I'm so confident we'd be able to recover it again I've been thinking how good a feature I'd get if it was pinched, we tracked its progress and quite likely caught the thieves too.
The device has a motion detector which under certain circumstances triggers a GPS receiver. If the bike is moved more than a certain amount without the ignition being switched on an alert is sent by e-mail and text message.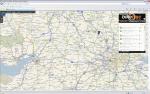 The bike's position is then constantly tracked so its movement can be monitored. This facility also lets you track legitimate journeys via the website, with a display that shows your route on a map with a 'breadcrumb' trail, and including information on times and speeds as well as the route itself. Just remember to switch this off if your journey is surreptitious...
Two bikes fitted with Bike Trac were stolen in the UK last year, one a brand new Suzuki GSX-R600 which was recovered within 40 minutes of being taken, the other a Yamaha WR125X. This was more remarkable as the owner had accidentally left the key in the bike, so the alert system was not triggered. But it was still possible to see the route the bike had taken after it was stolen via the website, and even though the signal was lost, when the bike was moved again it reactivated, Bike Trac's response centre remotely switched on a radio beacon and it was recovered by police. An increasing number of Bike Trac recoveries are now being reported.
I've been enormously impressed with the Multistrada's Bike Trac, even if nearly all the journeys I've been tracking have been legitimate ones. There's no clue on the bike that the system is fitted, and the small black box is buried deep within the bike so it would be impossible to tell it's there without some major dismantling. And no, you're not getting a photo of it...
I'd strongly recommend it for all but the cheapest bikes, and certainly for the most commonly stolen and expensive machines. The cost is £299 plus an annual subscription of £99, which covers the cost of the data transfer via the Orange phone network.
See Bike Trac
Donate to the Kevin Ash Fund
Kevin's funeral was held on Thursday 28th February 2013 and was well attended by family, friends and colleagues.
The Telegraph has very kindly established The Telegraph Kevin Ash Fund to assist with the education of Kevin's three daughters.
If you'd like to make a donation then you can use the PayPal 'Donate' button below which will allow you to donate from your PayPal account, or via credit or debit card. A small percentage (about 3.4%) will be retained by PayPal for the service.
Kevin's family have been touched by the generosity and messages of support from people using the website and would like to express their gratitude to those who have contributed in any way.
The donations keep coming in, thank you so much, and the family especially like it when you leave a message.