Aprilia SRV850 price
By Kevin Ash - 25/09/2012
Aprilia has announced the UK price of its new SRV850 scooter.
At £7,799 this sets it head to head with the new BMW C650 GT, although the sportier C600 Sport comes in at £7,300. Yamaha's 530cc T-Max looks beleagured at £8,870, especially as that doesn't include ABS, standard on the BMWs. ABS is not available for the Aprilia either.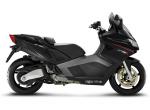 The SRV850 is based on the discontinued Gilera GP800 and uses the same 839cc V-twin which also powers the auto transmission Aprilia Mana. Output is the most powerful for any production scooter at 76bhp.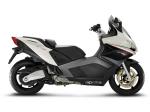 The Aprilia weighs 12lb (5kg) less than the GP800 and a series of other changes have been made to improve handling and stability.
Donate to the Kevin Ash Fund
Kevin's funeral was held on Thursday 28th February 2013 and was well attended by family, friends and colleagues.
The Telegraph has very kindly established The Telegraph Kevin Ash Fund to assist with the education of Kevin's three daughters.
If you'd like to make a donation then you can use the PayPal 'Donate' button below which will allow you to donate from your PayPal account, or via credit or debit card. A small percentage (about 3.4%) will be retained by PayPal for the service.
Kevin's family have been touched by the generosity and messages of support from people using the website and would like to express their gratitude to those who have contributed in any way.
The donations keep coming in, thank you so much, and the family especially like it when you leave a message.