Abus Disc Lock
By Free Competition! - 02/03/2010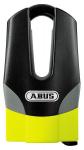 Spend an extra 30 seconds on one of your regular websites and you might just stop your bike from being stolen!
Place one or more links to ashonbikes.com on any other site, and whoever generates the most traffic back to here will win this top quality, easy carry ABUS Granite Quick Maxi 50 disc lock.
This website's software records every inward link and how many visitors use it, so I can tell in an instant which one has been most effective or add up a range of links to see who's accumulated the biggest numbers.
The best bet is likely to be flagging the DUCATI MULTISTRADA TEST, HERE RIGHT NOW! - post this on some Ducati forums or just general bike sites and it's bound to do well, as it'll be the first full report anyone can read worldwide. Other popular pages include the Honda VFR1200F, BMW's S1000RR, 1200RT and 1200GS, the MV Agusta F4, technical features such Yamaha R1's cross plane crank, and anything new!
Mail me with the links you've posted - as many as you like! - via the contact form (black menu bar on the home page), or if you're registered with this site and logged in you can click on the mail link under my avatar beside one of my forum messages.
The competition starts now and ends on March 31, so new articles throughout the month can all be pointed at. Open to residents of every country with a postal service.
Meanwhile, check out the ABUS range of locks here. They meet the highest industry standards, always do well in magazine tests, I've used only ABUS for years - my favourite is years old - and they've survived foul weather, falling off bikes at speed, and I've never had a bike stolen with one on it!
Donate to the Kevin Ash Fund
Kevin's funeral was held on Thursday 28th February 2013 and was well attended by family, friends and colleagues.
The Telegraph has very kindly established The Telegraph Kevin Ash Fund to assist with the education of Kevin's three daughters.
If you'd like to make a donation then you can use the PayPal 'Donate' button below which will allow you to donate from your PayPal account, or via credit or debit card. A small percentage (about 3.4%) will be retained by PayPal for the service.
Kevin's family have been touched by the generosity and messages of support from people using the website and would like to express their gratitude to those who have contributed in any way.
The donations keep coming in, thank you so much, and the family especially like it when you leave a message.