2013 Yamaha FJR1300 leaked!
By Kevin Ash - 29/10/2012
Pictures of Yamaha's new 2013 FJR1300 have been accidentally revealed by exhaust manufacturer Akrapovic!
Dutch website oliepeil.nl discovered they'd been accidentally published for a brief period.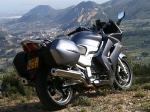 There are no details about the new machine, but comparing the images of current and 2013 model, the fairing is clearly different and possibly the screen, although this is raised in one picture and low in the other. The frame and rear subframe seem to be the same and tail end of the bike, as well as the fuel tank.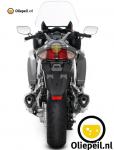 It seems likely the new version will come with traction control, and possibly an increase in engine size to 1350 or 1400cc. The bike will be announced at the Cologne Show in the first week in October.
Oh, and there will be an Akrapovic exhaust as an option!
Donate to the Kevin Ash Fund
Kevin's funeral was held on Thursday 28th February 2013 and was well attended by family, friends and colleagues.
The Telegraph has very kindly established The Telegraph Kevin Ash Fund to assist with the education of Kevin's three daughters.
If you'd like to make a donation then you can use the PayPal 'Donate' button below which will allow you to donate from your PayPal account, or via credit or debit card. A small percentage (about 3.4%) will be retained by PayPal for the service.
Kevin's family have been touched by the generosity and messages of support from people using the website and would like to express their gratitude to those who have contributed in any way.
The donations keep coming in, thank you so much, and the family especially like it when you leave a message.