2013 Ducati Multistrada
By Kevin Ash - 25/09/2012
Ducati has previewed the 2013 facelift Multistrada, and it's vying with the BMW HP4 as the first bike to come with semi-active suspension.
The new MTS1200 has been endowed with a host of improvements in response to owner feedback, including through the ashonbikes.com forum, but the headline update is the fitment of Ducati Skyhook Suspension. Full details have yet to be released, but this will perform in a similar manner to that on BMW's HP4, meaning the damping settings are adjusted automatically in response to road conditions and the way in which the rider is using the bike.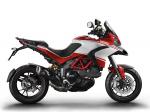 This is available on all S models, the Touring, Granturismo and Pikes Peak, but the base model will also benefit from a new, uprated three-level ABS system which adjusts fully according to the vehicle mode selected by the rider, and a package of other improvements. These include increased luggage capacity where panniers are fitted, and hopefully better fitting lids than the poorly manufactured previous items.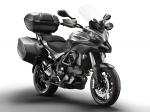 The flagship model is the Granturismo which also comes with a topbox, additional LED spotlights, improved wind protection and what Ducati calls long distance tyres. The Pikes Peak model is the sports version and comes in colours which replicate the 2012 Pikes Peak winning machine.
The engine has been subjected to enough improvements for Ducati to call it a second generation Testastretta 11 °, but nothing yet has been detailed.
No further details have been made available, but there are allegedly various bodywork changes and importantly, a new screen, source of one of the biggest criticisms of the current model for its excessive noise.
For the world's first full and most comprehensive review, see ashonbikes.com on Saturday, September 22.
Donate to the Kevin Ash Fund
Kevin's funeral was held on Thursday 28th February 2013 and was well attended by family, friends and colleagues.
The Telegraph has very kindly established The Telegraph Kevin Ash Fund to assist with the education of Kevin's three daughters.
If you'd like to make a donation then you can use the PayPal 'Donate' button below which will allow you to donate from your PayPal account, or via credit or debit card. A small percentage (about 3.4%) will be retained by PayPal for the service.
Kevin's family have been touched by the generosity and messages of support from people using the website and would like to express their gratitude to those who have contributed in any way.
The donations keep coming in, thank you so much, and the family especially like it when you leave a message.