2010 BMW GS and RT
By Kevin Ash - 30/03/2010
BMW's top-selling R1200 GS and R1200 GS Adventure are getting double overhead cam engines derived from the HP2 Sport for 2010. The new engine is being phased in across BMW's air-cooled twin range, replacing the current high cam motor which made its debut in 1993 in the R1100 RS.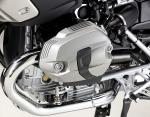 As a consequence, the power output increased by 5 per cent to 109bhp (110PS, 81kW) at 7,750rpm, while torque is up to 88lb.ft (120Nm) at 6,000rpm. The HP2 Sport engine is also significantly smoother and more willing to rev than the high cam twins - peak rpm on the 2010 GS is up 500rpm to 8,500rpm.
Other changes include an electronically-controlled flap in the exhaust system to allow louder sound while controlling volume during noise emission tests.
Colours available are white, red, grey and black for the GS, and grey or yellow for the GS Adventure.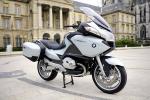 The R1200 RT tourer also benefits from the DOHC power unit in 2010, as well as a wider range of other changes than the GS. Power and torque figures are the same as the GS and the exhaust flap sound control is also fitted. In addition, the RT gets the sophisticated ESA II electronic suspension control first seen on the K1300 series in 2009, which adjusts spring rate as well as preload and damping according to load and riding style.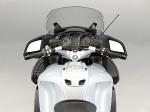 The fairing has been redesigned to improve wind and weather protection, while the cockpit is also new, including switchgear and hydraulic reservoirs. The sound system now includes the facility to play from an iPod or USB/MP3.
The colours available are metallic white, light grey, dark grey or a multi-colour option with dark grey base.
Prices and availability will be announced later this month.
Donate to the Kevin Ash Fund
Kevin's funeral was held on Thursday 28th February 2013 and was well attended by family, friends and colleagues.
The Telegraph has very kindly established The Telegraph Kevin Ash Fund to assist with the education of Kevin's three daughters.
If you'd like to make a donation then you can use the PayPal 'Donate' button below which will allow you to donate from your PayPal account, or via credit or debit card. A small percentage (about 3.4%) will be retained by PayPal for the service.
Kevin's family have been touched by the generosity and messages of support from people using the website and would like to express their gratitude to those who have contributed in any way.
The donations keep coming in, thank you so much, and the family especially like it when you leave a message.