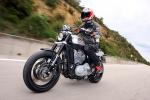 By Kevin Ash
Pictures: Double Red
Harley-Davidson has some explaining to do back home. The Milwaukee factory might not be known for its race track prowess here in Europe, but in the States where dirt track racing is a major sport, Harley is utterly dominant.
You are missing some Flash content that should appear here! Perhaps your browser cannot display it, or maybe it did not initialize correctly.
Indeed, its XR750 is arguably the most successful racing bike of any type in history, clocking up many more wins than any other since its introduction in 1970, although the rules have been regularly tweaked to help the home team. In fact the first model was a stopgap, based on the Sportster road bike with iron cylinders, but in 1972 the alloy engine version appeared, and even today it still makes up most of the grid of an American dirt track race (click here for a full, illustrated XR750 history).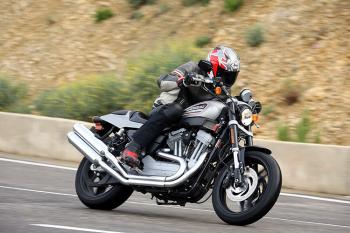 Click on image for gallery
This iconic machine was the inspiration for Harley-Davidson's XR1200 road bike. And since its introduction in 2008 for at least a year, the 1200 is only available in Europe, which has made some Americans quite scarily angry, and they have guns so make sure you sympathise... This isn't difficult as the XR1200 is a fine motorcycle: the reason we're getting it exclusively is because this is the vehicle with which Harley is ramping up its assault on Europe, a move started several years ago but which has taken on a new urgency since the stagnation of sales in the U.S. So although the bike is based on the gentle Sportster 1200, it has significantly more power and is designed to handle European roads at European speeds. Sales are expected to big enough here to stretch production capabilities, so America just has to wait.
What translates especially well is the XR's aching cool, right down to the riding position. Even if you have no intention ever of buying or riding one of these bikes, try this: find one in a dealer's showroom, swing a leg over it and reach out for the handlebars. They're fairly wide, fairly low, fairly close to you, and they're angled just so, and before you've even touched the switchgear you feel deeply, irretrievably cool – I'm convinced Harley has nonchalant assuredness defined quantitatively on its computers.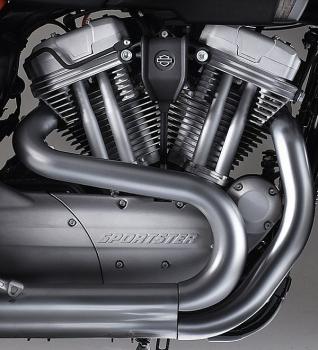 The rest of the look does these sensations no harm at all, from the twin, right-side pipes to the classic Harley racing orange paint (although the bike looks calmer and more sophisticated in the black or matt silver alternatives), but the visual core is that 45-degree V-twin engine, complete with Fifties' style 'Sportster' logo cast into the covers. Harley knows all this very well, which is why the engineers were told to lose the airbox which obscures the right side of all other Harleys' engines, a task they used to advantage by endowing the bike with a downdraft intake system to move the airbox into the fuel tank space. So on the XR1200 you see the full profile of that famous air-cooled, pushrod twin.
This also helps enhance power, up to 90bhp at a revvy (for a Harley) 7000rpm, around 20bhp more than a 1200 Sportster, and despite the bike's hefty quarter of a ton dry weight, that's sufficient to make it feel willing on the road. It's not sports bike fast of course, nor indeed Buell 1125CR fast, but it's not obstructively slow like a Sportster would be pitched into this category, and that will do fine as potential buyers will want the bike to feel good rather than be outright rapid. Crucially the motor has an air of urgency about it, and in addition sounds great while shuddering Harley-style through the bike with endearing low frequency vibes. The meat of its output comes in the 4-5000rpm zone, after which it starts to feel strained, but that's fine for most road riding. The fuelling is perfect aside from a rare cough as the twistgrip's turned suddenly from fully closed, usually as you start to exit a corner, but it's not noticed much.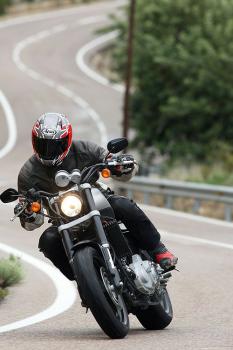 The chassis is based on a 1200 Sportster's but like the motor has been reworked to tempt Europeans, with longer travel suspension, quicker (if not exactly quick) steering and twin front disc brakes that provide reasonable power. The result is a machine which steers beautifully at low speeds, perfect for hairpins and tight turns with its lazy confidence, and which works well when the pace gets hotter, remaining neutral and plenty accurate enough. Ground clearance is the best of any Harley, as it would have to be bring in more European customers, although the footrests do touch down eventually, and on the right side next to ground out is the solid exhaust system, which if you were pushing too hard might just lift a wheel. So don't.
The weak spot is the suspension, which is underdamped, though not fatally. The brakes are limited not by their own power but the forks losing control of the wheel on uneven surfaces, while rougher roads get the bike bouncing too much, and the ride quality is not as good as a bike of this mass ought to have, instead being choppy. I like the XR enough myself that I'd simply budget to improve or replace the forks and rear shock, but they ought to be better from the factory – Showa equipment is used and it's top quality, so it's just Harley's damping specifications which don't work properly.
I worry too about the bike's durability. Harley and subsidiary Buell have a history of patchiness in this respect, and sure enough the exhaust end caps on the brand new test XRs were staining brown in the wet conditions, as were various bolt heads. The detailing doesn't help, with some of the fasteners looking agricultural, and for example the Allen bolts securing the handlebar clamp were filling with water when it rained – other companies plug them with simple plastic caps or use different types of bolt. On the left side, the clutch cable looks both exposed and ugly, routed around and below the engine, while you get no span adjustability on the levers, and the oil cooler is vulnerable and not pretty hung out on the left frame downtube.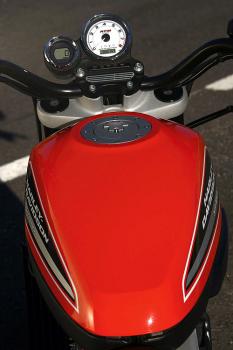 Many European riders will be frustrated by the bike's three gallon (3.6 US gallons, 13.6 litres) tank capacity too, inadequate for covering serious distances regularly, which in turn will render the accessory luggage and touring screen redundant. In fairly hard use the fuel warning lights up with only half a gallon left after just 80 miles (130km), although I suspect most riders will just about get into three figures. That's still not enough though, I'd love to tour on this bike as it's sufficiently comfortable and the engine is so torquey at low revs, but this restriction on range would stop me.
It's not perfect then, but there are plenty of riders who will love it regardless, and that includes me. Rationally I shouldn't, but bikes aren't about cold and clinical decisions, as far as I'm concerned it looks fabulous, sounds and feels great, and if Harley's Bill Davidson once said of the V-Rod that it was the bike for people who loved the name but didn't like the bikes, he really should have been talking about the XR1200. Flawed perhaps, but still a diamond.
£7,600 on the road.
Contact: Harley-Davidson UK Ltd, 0870 904 1450
www.harley-davidson.com
Specifications
Wed, 04/05/2011 - 23:19
#19
Good luck with the new bike Navy Boy.
I owned an XR 1200 last year and found it great fun. The only snag was the fuel range but it was economical enough 40+ mpg.
The harley fly screen will help keep the windblast off a bit but is a bit pricey. I bought the mra screen not as sexy but for a quarter of the price I could wear that.
I did not go for the HD heated grips as they wanted £350 + vat so I went to the victory dealer and got some heat demons fitted and they were brilliant . You could boil a kettle with them,rode through the winter with them and cost £220 all in. Aesthetically the heat demons were better looking than the HD.
You will have great fun on the XR and the 1200 engine is to me the best harley engine.
By the wayI have had the Sprint over a month now and I am loving it. I can`t believe I overlooked the sprint.It is a very well sorted bike and does an awful lot in a very understated way. Mr Ash wrote about rediscovering older models of bikes today in MCN and it is suprising how easy it is to overlook something very good just because the packaging is not up to date.
Wish you all the best with the XR, I did not have any problems with mine.
Chipper
Recent comments
In HONDA NC700X, kharli wrote:

In HONDA NC700X, kharli wrote:

In HONDA NC700X, Grump wrote:

In HONDA NC700X, kharli wrote:

In Lest we forget..., Captain Scarlet wrote:

In Captain Scarlet's next bike, malauder wrote:

In Captain Scarlet's next bike, Captain Scarlet wrote:

In Benelli 750 SEI, CCM wrote:

In Benelli 750 SEI, Gekom57 wrote:

In Benelli 750 SEI, Gekom57 wrote:

In Captain Scarlet's next bike, Grump wrote:

In Captain Scarlet's next bike, Navy Boy wrote:

In Captain Scarlet's next bike, Captain Scarlet wrote:

In Captain Scarlet's next bike, Grump wrote:

In HONDA NC700X, Grump wrote:

In Lest we forget..., Navy Boy wrote:

In Lest we forget..., unconventional rebel wrote:

In Captain Scarlet's next bike, unconventional rebel wrote:

In HONDA NC700X, unconventional rebel wrote:

In Lest we forget..., davvy wrote:
Donate to the Kevin Ash Fund
Kevin's funeral was held on Thursday 28th February 2013 and was well attended by family, friends and colleagues.
The Telegraph has very kindly established The Telegraph Kevin Ash Fund to assist with the education of Kevin's three daughters.
If you'd like to make a donation then you can use the PayPal 'Donate' button below which will allow you to donate from your PayPal account, or via credit or debit card. A small percentage (about 3.4%) will be retained by PayPal for the service.
Kevin's family have been touched by the generosity and messages of support from people using the website and would like to express their gratitude to those who have contributed in any way.
The donations keep coming in, thank you so much, and the family especially like it when you leave a message.
Recent Articles
We're familiar with solid-state electronics in biking. Ignition swapped points for transistors in the 1970s, then went digital in the 1990s. Now, the need for greater power, fuel efficiency and emissions control means modern engines only work with computer-controlled fuelling, ignition, combustion and exhaust. When we open the throttle we pull the strings, but the ECU calls the shots. To do it, the ECU needs an accurate view of the world. And it gets it through its sensors.
A gyroscope is a rigid circular or spherical mass rotating around an axis and for over 100 years motorcycles have come with three of them: a front wheel, a rear wheel and a crank (if you're being pedantic you could include cams, balancer shafts, gearbox, clutch etc). The classic mechanical model of a gyroscope ranges from the very small – electrons spinning around an atom's nucleus – to the very large – the Earth.
Most of us have an innate feel for balancing a high centre of gravity on a relatively short wheelbase. Say, like a motorbike. Its centre of gravity is the point at which the sum of the surrounding mass is zero, and is largely determined by the location of the engine, the heaviest part of the package. Usually the CoG is midway between the wheels (half the wheelbase) and 60 to 75cm off the ground; just above the engine, in front of your knees. Or at least it is until you get on.
Anyone with fingers knows bikes vibrate, sometimes strongly enough to make picking your nose impossible. But how we perceive vibration depends on its type, pattern, frequency and cause. Bikes are subject to different types of vibration. A bumpy road creates random forced vibration at medium to high frequency (around 5-35 Hz depending on vehicle speed). It's perceived as unpleasant, as is head buffeting caused by wind turbulence. Engineers and aerodynamicists try to minimise these bad vibrations. But we usually talk about engine vibration. There are many sources...
From the launch of Yamaha's new Super Ténéré: "The exhaust pipe connection between the two headers is discontinued to give more character to the engine. The link pipe gives a flat feeling to the curve, so removing it makes the engine a bit more peaky." This is all about exhaust gas. When a four-stroke is tuned for power it means more revs, and so the cylinders have thousandths of second to fill with fresh mixture, compress it, burn it and pump it out again. To get enough mixture in and out, inlet valves open early and exhaust valves stay open for longer – so both are open at the same time.