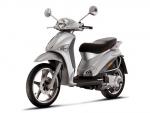 The following Piaggio study was carried out in 2004, so the costs and savings relate to that period. In today's financial environment they would be even better...



Transform your life - Take Control of your Commute

Thousands of stressed-out commuters could transform the quality of their lives and boost their prospects at work if they changed the way they travel to work, according to a new study which tests the effects of swapping employees' normal modes of transport.

Control your Commute, a pilot study by scooter market leader Piaggio, tracked the lives of five staff at BDO Stoy Hayward, part of the world's largest accountancy firm, when they replaced commuting journeys on public transport with commuting on Piaggio Liberty scooters. The participants' work performance was monitored by their senior line managers throughout the three-month study and all reported a measured increase in the participants' productivity.

Startling results from the survey indicated that the benefits of removing the stress of buses, trains and tubes are two-fold: it can improve productivity in the workplace by 10%, while giving commuters something that money can't buy – extra time in the day. The study also showed an average financial saving of £20 per week, totalling over £1,000 per year.

Recent research shows that one-quarter of office workers spend between one and two hours travelling to and from work each day, and 44% of London's three million commuters cite this as being the most stressful part of their day. Carole Spiers, senior occupational stress consultant, says: 'Travelling by public transport can lead to frustration for many commuters because they do not have control over their journey, and this can be a root cause of stress.'

Carole goes on to say: 'Companies could significantly improve the performance of staff if they could be removed from the daily commuter crush, so that they arrive at work on time and stress-free, and in a frame of mind conducive to a productive day in the office.'

Kevin Ayles, HR operations manager at BDO Stoy Hayward, has seen the difference the scooter has made for his colleague Ellie Sharp, who took part in the research. Kevin commented: 'For someone with a hectic schedule, unpredictable journeys on overcrowded buses and trains are clearly both annoying and demoralising. Having removed the lengthy delays often caused by public transport, Ellie found that the scooter boosted her punctuality by 20%'. Kevin also saw how the removal of the stress of commuting can increase productivity, tolerance and enthusiasm. Kevin concluded, 'a bad trip to work can affect how you start your day, how it continues and also levels of concentration. The noticeable benefits certainly suggest that other employers could benefit from investing in scooters for their teams.'

In a society where we strive to achieve a happy balance between work and play, participants also reported saving an average of one hour per day in commuting time. This time was put to good use including having breakfast before leaving the house, visiting the gym, getting a full eight hours sleep and being able to see more of children and partners.

One participant, Andrew Caldwell, a partner at BDO Stoy Hayward, has found his scooter invaluable. He comments: 'As soon as I started commuting on the scooter, it became clear very quickly that I could rely on the journey lasting the same amount of time every day. Not only has this put me back in control of my commute but it enables me to spend valuable time with my son during the week, which I was rarely able to do before.'



Key survey findings

* In the UK, the average working week is 43.6 hours, and one in six people work over 60 hours, making the work/life balance hard to achieve (www.onrec.com and DTI)

* Absence from stress-related sickness costs UK employers £1.24 billion each year3 due to adverse psychological and physiological effects including anxiety, high blood pressure, disturbed sleep and gastric problems

* Trends reported show that

- productivity can be increased by 10%

- there was a 20% improvement in timekeeping

- there was a 10% improvement in communication with colleagues and enthusiasm and motivation within the workplace

* All participants commented that switching to scooter left them 'a lot less stressed'

* Carole Spiers, senior occupational stress consultant, says, 'Exposure to stress will usually effect our behaviour towards others and can breed an unpleasant and unmotivated culture in the workplace.'

* Participants gained an average of one hour per day - Jane McGibbon cut her journey into work by 50%, from one hour to thirty minutes

* Each participant recorded a saving of between £20-25 per week

* Four of the five participants have now purchased scooters and are riding them to and from work




Recent comments
In HONDA NC700X, Grump wrote:

In HONDA NC700X, malauder wrote:

In HONDA NC700X, Spanny wrote:

In HONDA NC700X, Grump wrote:

In HONDA NC700X, kharli wrote:

In HONDA NC700X, kharli wrote:

In Belt Drive, kharli wrote:

In Sticking the knife in forks, Navy Boy wrote:

In New Bonnie, Navy Boy wrote:

In Sticking with aluminium, Navy Boy wrote:

In Sticking with aluminium, Captain Scarlet wrote:

In Sticking with aluminium, shuggiemac wrote:

In KTM 1190 Adventure news, gadrugupre wrote:

In New Bonnie, Navy Boy wrote:

In New Bonnie, kharli wrote:

In New Bonnie, Navy Boy wrote:

In Yamaha FJ09 - Tracer, Captain Scarlet wrote:

In HONDA NC700X, Captain Scarlet wrote:

In Yamaha FJ09 - Tracer, unconventional rebel wrote:

In Yamaha FJ09 - Tracer, Navy Boy wrote:
Donate to the Kevin Ash Fund
Kevin's funeral was held on Thursday 28th February 2013 and was well attended by family, friends and colleagues.
The Telegraph has very kindly established The Telegraph Kevin Ash Fund to assist with the education of Kevin's three daughters.
If you'd like to make a donation then you can use the PayPal 'Donate' button below which will allow you to donate from your PayPal account, or via credit or debit card. A small percentage (about 3.4%) will be retained by PayPal for the service.
Kevin's family have been touched by the generosity and messages of support from people using the website and would like to express their gratitude to those who have contributed in any way.
The donations keep coming in, thank you so much, and the family especially like it when you leave a message.