What's the best touring bike? (2)
kevash
Offline
Due to a technical issue, the best touring bike thread is being continued here, while the old one has been locked. I hope it's not too much of an inconvenience!
Fri, 26/08/2011 - 02:39
#2
Captain Scarlet
Offline
Re: What's the best touring bike? (2)
The best touring bike has a very comfortable seat for two. It floats over ruts in the road and yet feeds back genuine tactile informative feel to it's rider of how much grip is available.
It has brakes that stop it in a equal distance to the better bikes currently available, but with feel and progressive delivery. It's tank range should certainly be capable of getting the bike 200 miles without having to push it and frugality a bonus.
The screen it wears should not create turbulence whilst remaining relatively quiet and protective within reason. The engine should have a smooth linear delivery, be torque laden suffice for effortlessly legal speeds overtakes and powerful enough to cruise all day long at a 90-100 mph for those that want to.
It's got to be capable of strapping luggage to it without damage or Kypton Factor finalist winning abilities. And yet it's weight should not detract from the riding experience once the road tightens and the pillion and luggage have been jettisoned.
Niceties would include miles until empty counters, cruise control for monotonous stretches, heated grips, hand guards/protection, ABS and traction control.
Power modes? Electronic manual-selected suspension? Nice theories / techno-horn waving, just not absolute existential to have in reality IMHO.
So Giles Brandreth "who lives with a bike like that"?
Donate to the Kevin Ash Fund
Donate directly to the Kevin Ash Fund setup by the Telegraph to help with the education of his three daughters.
The Telegraph can only accept cheques and Postal Orders in Sterling. If you'd like to make a donation but you can't send a cheque or Postal Order then you might consider using PayPal, which will accept other methods of payment. A small percentage (about 3.4%) will be retained by PayPal for the service.
Kevin's family have been touched by the generosity and messages of support from people using the website and would like to express their gratitude to those who have contributed in any way.
The donations keep coming in, thank you so much, and the family especially like it when you leave a message.
NEWS...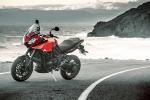 * TRIUMPH TIGER SPORT
The Tiger gets a single-sided swingarm and another 10bhp!...(more)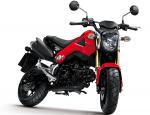 * HONDA MSX125
Honda announces a spiritual successor to the iconic Monkey Bike!...(more)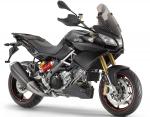 * APRILIA CAPONORD
At last Aprilia goes for the GS too......(more)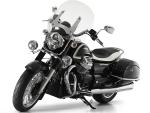 * GUZZI CALIFORNIA 1400
Italy's biggest ever V-twin for the all-new Guzzi...(more)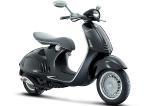 * VESPA 946 FIRST PIC
Sleek new Vespa 125 based on last year's concept bike...(more)