What next?
Bunnster
Offline
I've read a number of posts and this is definitely the best place to ask what bike I should be looking at next...
But before that, here's what I've done so far.
October 2010 - started off on a Cagiva Raptor 125, which was a damned fine bike which loved having the nuts revved off it.
Got my CBT and learned to ride through the winter, which to me was the best time to get used to the "changeable" weather we have in the UK!!
I had my lessons on an ER5 which was tame and an easy learner ride.
Passed my MOD1 in February, then my MOD 2 in March - I know there's much said about people dropping their steeds in the MOD1 test but I must admit there is nothing wrong with the test as you should be able to do the swerve test and emergency stop as safely as you can at real world speeds.
Bought a new Street Triple in April and had to run it in, which was a good thing in my honest opinion.
As soon as it was run in I signed up to do the enhanced riders' scheme was elevated my riding ability significantly.
I started to ride with the IAM in September and now am sitting my mock test. Not sure if I will pass but am pleased with my progress.
-- oXo --
Sorry for the history lesson but I think it will help with your input.
I've been looking at the Ducati 848 evo but purely as it is beautiful to behold, especially in stealth black.
Then a mate of mine has been sowing the seeds of getting something bigger. I have a list which encompasses the following:
Kawasaki ZX10R
Yamaha R1
BMW S1000RR
Ducati 848 evo / 1199 (when it is for sale)
Suzuki GSXR750 / 1100
Aprilia RSV4 APRC
Honda Fireblade (this seems to be now falling behind their rivals)
Note the absence of a Triumph - the Speed Triple would be nice but I sometimes do a commute down south and I can't think the Speed Triple would be much more than the Street Triple.
Any comments would be appreciated.
Donate to the Kevin Ash Fund
Donate directly to the Kevin Ash Fund setup by the Telegraph to help with the education of his three daughters.
The Telegraph can only accept cheques and Postal Orders in Sterling. If you'd like to make a donation but you can't send a cheque or Postal Order then you might consider using PayPal, which will accept other methods of payment. A small percentage (about 3.4%) will be retained by PayPal for the service.
Kevin's family have been touched by the generosity and messages of support from people using the website and would like to express their gratitude to those who have contributed in any way.
The donations keep coming in, thank you so much, and the family especially like it when you leave a message.
NEWS...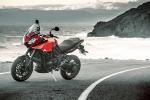 * TRIUMPH TIGER SPORT
The Tiger gets a single-sided swingarm and another 10bhp!...(more)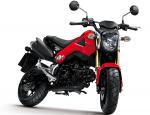 * HONDA MSX125
Honda announces a spiritual successor to the iconic Monkey Bike!...(more)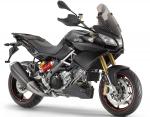 * APRILIA CAPONORD
At last Aprilia goes for the GS too......(more)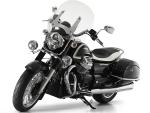 * GUZZI CALIFORNIA 1400
Italy's biggest ever V-twin for the all-new Guzzi...(more)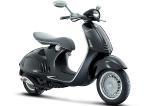 * VESPA 946 FIRST PIC
Sleek new Vespa 125 based on last year's concept bike...(more)