Triumph Tiger Explorer
Mon, 02/07/2012 - 22:49
#631
Grump
Offline
Re: Triumph Tiger Explorer
Following on from my previous mention of the bike tracking on white lines and other linear road disturbances, I have done some further research. At this point I do not believe the Tourances are at the root of the problem. Friends have used them on GS's and Varaderos and the like without any such issues. My bike has been doing this from the getgo.Tyre pressures have been correctly adjusted.
The steering bearings have been adjusted. I still feel there is some play in the fork bushings. I would expect there to be a small amount of play for the forks to function properly but I am not sufficiently qualified to adjudicate on this. The Mechanic pointed out that there was similar play on the forks of a new bike on the shop floor.
I have now also discovered that there is a small amount of play in the rear wheel bearings. Now that is disturbing indeed given the problems that have been encountered on GS's.
The entire matter has been referred back to the dealer and I await further developments.
I have noticed that a friend with an 800 explorer has a rear tyre of larger section as standard, compared to the 1200. He had noticed this also as the 1200 rear tyre is noticeably skinnier, and was curious, as I am. Any ideas ?
Donate to the Kevin Ash Fund
Donate directly to the Kevin Ash Fund setup by the Telegraph to help with the education of his three daughters.
The Telegraph can only accept cheques and Postal Orders in Sterling. If you'd like to make a donation but you can't send a cheque or Postal Order then you might consider using PayPal, which will accept other methods of payment. A small percentage (about 3.4%) will be retained by PayPal for the service.
Kevin's family have been touched by the generosity and messages of support from people using the website and would like to express their gratitude to those who have contributed in any way.
The donations keep coming in, thank you so much, and the family especially like it when you leave a message.
NEWS...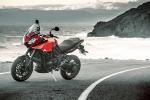 * TRIUMPH TIGER SPORT
The Tiger gets a single-sided swingarm and another 10bhp!...(more)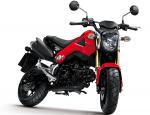 * HONDA MSX125
Honda announces a spiritual successor to the iconic Monkey Bike!...(more)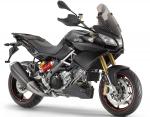 * APRILIA CAPONORD
At last Aprilia goes for the GS too......(more)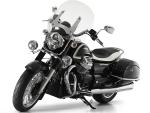 * GUZZI CALIFORNIA 1400
Italy's biggest ever V-twin for the all-new Guzzi...(more)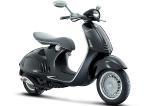 * VESPA 946 FIRST PIC
Sleek new Vespa 125 based on last year's concept bike...(more)