Triumph Tiger Explorer
Mon, 23/04/2012 - 20:43
#512
Captain Scarlet
Offline
Re: Triumph Tiger Explorer
RIC, I think that by the time the CT does make it to America (which I think it will at some point) there will be additional new competition with new releases from BMW, KTM, Guzzi, Suzuki and Audi... oops I mean Ducati!
So if I change the Triumph for another adventure bike at some point, then I'll judge the competition at that point in time. If Honda brought in the CT tomorrow, I wouldn't be changing the TeX, it'd be like trading a brand new R6 for a GSXR6, small change.
Like the GS, the TeX is a bike that you greatly admire and respect, rather than lust after. I read the handbook PDF today and there's a lot of really thoughtful and neat touches, like the easy headlight adjuster and self-cancelling indicators, that get little airplay in the launch reviews, but as an owner I will be really appreciative of. As I will the USP cruise control and the comprehensive launch kit, plus options I've chosen.
I do think it's interesting that some of the issues that are cropping up on the CT forum were not identified in the launch reviews, such as a harsh front end (forks/bearings?) that a few have complained about. And a top heavy feel, which the Triumph pleasantly didn't feel like to me, at a standstill anyway.
As you mentioned, of DCT, initial owner feedback on a model specific forum will often be rose-tinted to self-justify the purchase. For you and I, this isn't our first dance with a new bike, which is why I value your level-headed feedback on the TeX so far.
To be fair to our Honda owning friends, I fully expect the TeX forum to run the same cycle of 'orgasmically good' type comments, to 'one thing that annoys me about my bike is...' type 'living with' comments.
This said, there's very few disgruntled peeps on the T8 forums and the number of new TeX owners vs CT owners on the two forums we frequent is still running about 10/1 in favour of the Triumph, which says the people have spoken with their wallets.
If I was a guest of the RIC household, working my way through your vintage port and wine collection, whilst angling for a passenger ride in the Mc, I'd happily tell you the TeX was prettier than a carbon-clad Panigale S :-D
I've made a bit of the Plan Jane looks, but I've now downloaded the photos I took yesterday and certainly from some angles it actually looks quite handy and tasty. It's just other angles that it looks fat and frumpy. I guess I'm the same!
Donate to the Kevin Ash Fund
Donate directly to the Kevin Ash Fund setup by the Telegraph to help with the education of his three daughters.
The Telegraph can only accept cheques and Postal Orders in Sterling. If you'd like to make a donation but you can't send a cheque or Postal Order then you might consider using PayPal, which will accept other methods of payment. A small percentage (about 3.4%) will be retained by PayPal for the service.
Kevin's family have been touched by the generosity and messages of support from people using the website and would like to express their gratitude to those who have contributed in any way.
The donations keep coming in, thank you so much, and the family especially like it when you leave a message.
NEWS...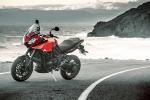 * TRIUMPH TIGER SPORT
The Tiger gets a single-sided swingarm and another 10bhp!...(more)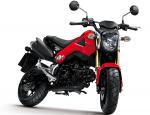 * HONDA MSX125
Honda announces a spiritual successor to the iconic Monkey Bike!...(more)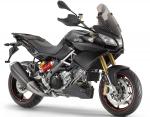 * APRILIA CAPONORD
At last Aprilia goes for the GS too......(more)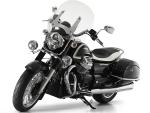 * GUZZI CALIFORNIA 1400
Italy's biggest ever V-twin for the all-new Guzzi...(more)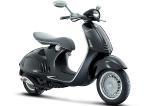 * VESPA 946 FIRST PIC
Sleek new Vespa 125 based on last year's concept bike...(more)