Power Thrust Curves
Power Thrust Curves:
Captain Scarlet pretty much summed up the challenges and limitations of thrust curve graphs when he said,
"What I really liked was that they based the engine's performance on actual RWHP measurements"
... Exactly. It is a definitive figure, albeit one based on a specific production model example, but without cloning these verbatim we have to use whatever press example they have been given as a genuine representative yardstick of a production model. It still doesn't allow for a riders weight, how aerodynamic they (or the bike) is, nor whether the rider is sat prone or upright, which will dramatically affect both drag and the overall centre of gravity; so some clear tangibles are intangible to clearly qualify in an almost comedic oxymoron kinda way. For this reason the best compromise is probably to ignore the intangibles and stick with vehicle weight with all fluids including a full tank and its rear wheel horsepower to provide a true power to weight. However even this does not provide absolute clarity regarding straight line performance, even ignoring the rider and vehicle aerodynamics. We still have to think about weight appropriation, manufacturer imposed artificial low gear torque restrictions, RBW throttle not providing WYSIWYG results, geometric design of the bike, tyre width and profiling, in terms of what percentage of that RW HP can actually be applied without loss of traction. Oh, there's another variable, traction-control, which again has different solutions and parameter controls dependent on which manufacturer is bringing the solution to the table!."
A thrust curve graph usually only displays the maximum potential straight line performance at full throttle.
Maximum straight line performance is only a very small part of biking. Maximum rapid acceleration on many bikes and with many riders is not a prime consideration, nor should it be. Almost any bike has no problems with acceleration on public roads in keeping up with traffic.
To judge a bike's value just on maximum throttle performance is a mistake.
Good actual riding reports like Kevin's and so many other generous members of this site have far more value in the real world.
At best thrust curves are an interesting side note to good detailed rider reports.
We can only estimate air drag and its affects. We can minimize this error by comparing bikes of a similar type and style.
JAG
Sun, 27/11/2011 - 18:53
#2
Re: Power Thrust Curves
Thrust Curve Blackbird:
I have chosen a 2006 Honda Blackbird CBR1100XX as a baseline for comparison to other bikes of the same type and class. I have selected this bike because from this site it appears to be a bike with high regard from many members. It also appears to have a very good reputation as a very good sport/touring bike. Many have indicated that it is one of Honda's best designs.
Many have had actual riding experience with it.
Before I finish my graphs I would appreciate those familiar with the bike to review what I have come up with so far. Especially in regards to total weight including fuel.
If you see an obvious error, please let me know.
Thanks
JAG
Thrust Curve: Blackbird
Baseline Bike:
Specifications:
2006 Honda Blackbird CBR1100XX
Total wet weight 558 lbs.
Total weight with rider 743 lbs.
Bore 79 mm
Stroke 58 mm
Bore to stroke ratio = 1.362 - 1
Total piston area = 30.375 square inches
Maximum measured RWHP = 125.9 RWHP @ 9600 RPM
Piston speed at maximum RWHP 9600 RPM = 3653 ft/min.
Overall Gear Ratios:
1st gear = 11.258 – 1
2nd gear = 8.131 – 1
3rd gear = 6.420 – 1
4th gear = 5.419 – 1
5th gear = 4.745 – 1
6th gear = 4.237 – 1
6th gear at 60 MPH = 3,372 RPM
Standard rear wheel size 180/55 ZR17 (73W)
Donate to the Kevin Ash Fund
Donate directly to the Kevin Ash Fund setup by the Telegraph to help with the education of his three daughters.
The Telegraph can only accept cheques and Postal Orders in Sterling. If you'd like to make a donation but you can't send a cheque or Postal Order then you might consider using PayPal, which will accept other methods of payment. A small percentage (about 3.4%) will be retained by PayPal for the service.
Kevin's family have been touched by the generosity and messages of support from people using the website and would like to express their gratitude to those who have contributed in any way.
The donations keep coming in, thank you so much, and the family especially like it when you leave a message.
NEWS...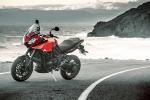 * TRIUMPH TIGER SPORT
The Tiger gets a single-sided swingarm and another 10bhp!...(more)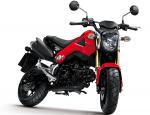 * HONDA MSX125
Honda announces a spiritual successor to the iconic Monkey Bike!...(more)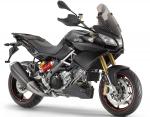 * APRILIA CAPONORD
At last Aprilia goes for the GS too......(more)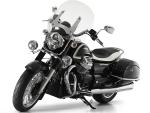 * GUZZI CALIFORNIA 1400
Italy's biggest ever V-twin for the all-new Guzzi...(more)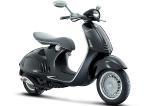 * VESPA 946 FIRST PIC
Sleek new Vespa 125 based on last year's concept bike...(more)