New bike dilemma
Hi Everyone,
This is my first post after being a long time lurker in the forum.
Would appreciate some advice and discussion on my next bike purchase.
I've got two bikes at present - a Vespa 300 GTS which I use for commuting - this will almost certainly not be sold as it is fun to ride and costs next to nothing to run (plus I like it).
Which leads me to the other bike - its a Moto Guzzi Norge - this will be the bike I'm selling to partially fund the next bike.
My shortlist has shifted from the conventional tourers in the main , can't see anything for Aprillia, Honda, Suzuki,Ducati,KTM,or Triumph fitting the bill.
I have started to get demo rides on Custom Cruisers - Victory Jackpot, HD Sportster,Fatbob and Fatboy.
I'm tempted to go along with HD and don't mind cleaning the bike regularly - don't ride much in the rain - usually on the Vespa then back and forth to work.
The HD Fatboy really did appeal - classic bike look - relaxed ride and what looks like very good resale value etc.
I suppose my main issue with HD is trying to understand the bikes for sale (used) they (in the main) appear to have very low miles on them.
A Fatboy , Road King or Softail Classic look the favourites for me.
I'd appreciate any comments - I plan to keep the bike for at least 5 years and ride the thing - we something like 5,000 to 8,000 miles a year.
Mon, 20/08/2012 - 23:01
#1
shuggiemac
Offline
Re: New bike dilemma
Hi Dennis,
The next bike question - what a great dilema to have and one that we don't get to have often enough - apart from our very own Capn Scarlet of course but that is not the norm :-)
I suspect that you will be able to solicit any number of of replies but seeing as how you asked then here I shall give you my tuppence worth.
After quite an eager wait I got to ride, last year, a Victory and I was left quite disappointed by it. I really liked the look of how they are put together and the fact that they are not a Harley had an appeal. Not that I have anything against Harley in any way, shape or form but it just seems that every man and his dog has one and some of the production touches I have seen on them are just a laugh. To be fair there are also some great features on them too. Anyway having said all that, the reason I was left underwhelmed by the Victory was that it was all just a bit too sanitised and I was kind of hoping that it would out Harley the Harley, which it did not. Yes I know that this is a contradiction in some ways to what I have been saying. The bottom line is that it fell short of my expectations but again in the name of balance, I woould like to try one again but on a longer ride that I had.
The Road King on the other hand, is a bike I should not on paper like but in reality I do. I have ridden them a few times and in all but one case I thought it was great and if I was looking to buy a Harley then that is where my money would go. The thing is that the one time I rode one where it was not good was when it was truly awful. My mate had one and we were on a jaunt through the Alps. We swapped bikes and his was the most evil handling, scarey thing that I have ever had the displeasure to sit on. It was down right dangerous and it was almost impossible to make it turn on the alpine passes without almost driving over the edge of the road. My mate is, with all due respect, not the most technical bloke in the world and he had done nothing to it by way of maintenance I think. The suspenson was shot and the tire pressures so way out of whack that it could have been used on sand and not sunk in. So I don't hold that episode against what I have experienced in all other instances to be a great bike.
As for the resale value element I can't comment as it is not something that ever enters my mind when I buy something as I tend t keep them for a while anyway and more importantly I will buy what I want based on the product that it is and not a speculation of what it may be worth in the future. I would hate to miss out on something that I truly wanted, if I could afford it at the time, for the sake of worrying about how much I may or may not get back on it x number of years down the line. Life is not that predictable!
So there you have it, I would go for the Road King and be very happy about it too.
Donate to the Kevin Ash Fund
Donate directly to the Kevin Ash Fund setup by the Telegraph to help with the education of his three daughters.
The Telegraph can only accept cheques and Postal Orders in Sterling. If you'd like to make a donation but you can't send a cheque or Postal Order then you might consider using PayPal, which will accept other methods of payment. A small percentage (about 3.4%) will be retained by PayPal for the service.
Kevin's family have been touched by the generosity and messages of support from people using the website and would like to express their gratitude to those who have contributed in any way.
The donations keep coming in, thank you so much, and the family especially like it when you leave a message.
NEWS...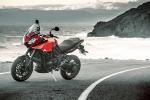 * TRIUMPH TIGER SPORT
The Tiger gets a single-sided swingarm and another 10bhp!...(more)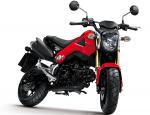 * HONDA MSX125
Honda announces a spiritual successor to the iconic Monkey Bike!...(more)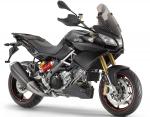 * APRILIA CAPONORD
At last Aprilia goes for the GS too......(more)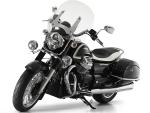 * GUZZI CALIFORNIA 1400
Italy's biggest ever V-twin for the all-new Guzzi...(more)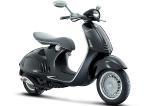 * VESPA 946 FIRST PIC
Sleek new Vespa 125 based on last year's concept bike...(more)