Mileage
Wed, 06/06/2012 - 12:24
#61
Re: Mileage
Gearing and engine parasitic losses and MPG
We know it takes energy to turn the engine over. Pumping losses and friction cost energy. The torque required to overcome those losses remains fairly constant regardless of engine speed but the HP loss or work changes and increases with RPM.
Torque is the force required to turn the engine over.
HP is how fast the engine supplies that torque (RPM).
HP is a measurement of work.
The work or HP required to move the bike at say 60 MPH down the road is the same regardless of the engine RPM or what gear you are in. What changes is the engine's HP parasitic losses.
So if the engine speed at 60 MPH is 3500 RPM in 6th gear and the engine speed in 5th gear is 4000 RPM, 6th gear at 60 MPH would have about 12% lower HP parasitic losses that 5th gear at that road speed.
So at cruising at 60 MPH, 6th gear should get better MPG than 5th gear.
I suspect engine RPM and its HP parasitic losses have a greater impact than just throttle position in regards to MPG at constant cruising road speeds.
My experience has been I got the best MPG when the engine vacuum was highest at the lowest engine RPM at the highest road speed.
As a side bar, I have noticed that my water cooled bike runs a little cooler in 6th gear at 60 MPH than in 5th gear at the same road speed. Heat is wasted energy so this would also suggest the bike is a little more overall efficient in 6th gear than 5th gear.
Greater efficiency = better MPG.
If you are lucky enough to have a bike with a chain or belt final drive and very good roll on performance in top gear from 100 to 120 Km/h and you want to improve the MPG you might consider changing the final drive gear ratio say about 10% to lower the RPM at cruising speeds.
You would lose a little roll on performance in top gear.
The top gear or 6th gear would become an overdrive gear.
Maximum road speed may be in 5th gear instead of 6th.
I have this on my bike.
Regards,
JAG
Donate to the Kevin Ash Fund
Donate directly to the Kevin Ash Fund setup by the Telegraph to help with the education of his three daughters.
The Telegraph can only accept cheques and Postal Orders in Sterling. If you'd like to make a donation but you can't send a cheque or Postal Order then you might consider using PayPal, which will accept other methods of payment. A small percentage (about 3.4%) will be retained by PayPal for the service.
Kevin's family have been touched by the generosity and messages of support from people using the website and would like to express their gratitude to those who have contributed in any way.
The donations keep coming in, thank you so much, and the family especially like it when you leave a message.
NEWS...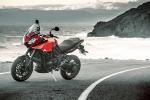 * TRIUMPH TIGER SPORT
The Tiger gets a single-sided swingarm and another 10bhp!...(more)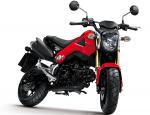 * HONDA MSX125
Honda announces a spiritual successor to the iconic Monkey Bike!...(more)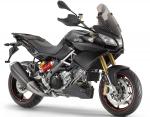 * APRILIA CAPONORD
At last Aprilia goes for the GS too......(more)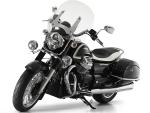 * GUZZI CALIFORNIA 1400
Italy's biggest ever V-twin for the all-new Guzzi...(more)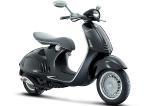 * VESPA 946 FIRST PIC
Sleek new Vespa 125 based on last year's concept bike...(more)