Mileage
This might be a stupid question, but with all the talk about MPG tests at the moment I thought I'd ask anyway. It surprises me when I see MPG figures quoted for bikes which, whilst undoubtedly better than a car, are not that much better. Admittedly a bike has a smaller engine and therefore has to work harder which will cause the MPG to suffer, but some small cars have similar sized engines and manage to return similar MPG figures despite the increased weight. I was wondering whether anyone could explain in general terms why bikes are not miles (no pun intended) ahead of cars when it come to MPG figures?
Thanks!
Sun, 27/05/2012 - 17:03
#2
Navy Boy
Offline
Re: Mileage
Generally bike engines are designed to deliver their best at high(er) revs than cars owing to their higher power to weight ratios.
Look at it like this:
Take a person moving 50 Kg up 5 equally spaced steps.
One person will do this in 10 seconds. A second will do it in 5 seconds. Therefore the second person makes twice the POWER of the first.
Take the same 50 Kg up 5 equally spaced steps.
One person will do it in 10 seconds. A second person takes 100 Kg up the same 5 steps in the same 10 seconds. The second person in this example has twice the TORQUE of the first.
So you see torque is the ability to move weight (Or in other words produce force) over a set distance. Therefore for a car with all its extra weight to move compared to a bike a far greater emphasis on torque is highly desirable.
Where this comes into play with regards to MPG is that higher revs (Required to generate the bikes' extra power figures) will generate far greater frictional losses (These losses increase exponentially as they go up) meaning that gaining that extra power involves paying a hefty price.
This also explains why higher torque bikes such as Harleys can still provide satisfying accelaration and be pleasing to ride. Where their lack of power comes to the fore is in their inability to produce high top speeds and/or sharp accelaration when at higher speeds (80+ Mph) when the aerodynamics mentioned by JAG come increasingly into play.
Donate to the Kevin Ash Fund
Donate directly to the Kevin Ash Fund setup by the Telegraph to help with the education of his three daughters.
The Telegraph can only accept cheques and Postal Orders in Sterling. If you'd like to make a donation but you can't send a cheque or Postal Order then you might consider using PayPal, which will accept other methods of payment. A small percentage (about 3.4%) will be retained by PayPal for the service.
Kevin's family have been touched by the generosity and messages of support from people using the website and would like to express their gratitude to those who have contributed in any way.
The donations keep coming in, thank you so much, and the family especially like it when you leave a message.
NEWS...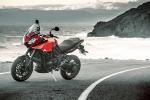 * TRIUMPH TIGER SPORT
The Tiger gets a single-sided swingarm and another 10bhp!...(more)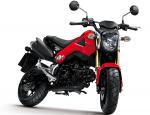 * HONDA MSX125
Honda announces a spiritual successor to the iconic Monkey Bike!...(more)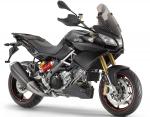 * APRILIA CAPONORD
At last Aprilia goes for the GS too......(more)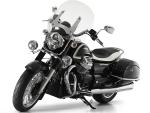 * GUZZI CALIFORNIA 1400
Italy's biggest ever V-twin for the all-new Guzzi...(more)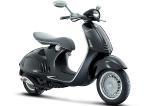 * VESPA 946 FIRST PIC
Sleek new Vespa 125 based on last year's concept bike...(more)