Harley Dyna Switchback
kevash
Offline
I'm riding the Switchback as well as the 10th anniversary V-Rod (yup, a decade since that first appeared!) and the Softail with its updated Twin Cam 103 engine on Thursday, September 22. This is a UK presentation (flying us to the States is proving a bit costly these days...) but senior Harley UK staff will be present, so if there are any questions you'd like me to pose about the bikes or other Harley issues, post them here.
Tue, 20/09/2011 - 18:01
#3
Captain Scarlet
Offline
Re: Harley Dyna Switchback
"At some £4k cheaper there has to be some reason why Harley can still sell the Switchback alongside the RK"
... there are:-
Basically the RK and RKC models are a step up from the (Switchback) Dyna range, they're part of the premium Touring range. It's frame seems firmer to me - touring frames beefed-up a claimed 67% two years back. The RKC is better equipped, because as standard it comes with both front and rear engine protection bars, cruise control and over here in the US it also comes with keyless ignition, anti-lock brakes and alarm system (the 'security' package) as standard, whereas this is a cost extra on the Switchback.
In addition the panniers are difficult and expensive to make as the RKC wears pre-formed internally rigid panniers, covered in a water repellant thick leather skin. So you get all the period looks of traditional 'saddlebags' but with the practicality of shape retention. The air-shock ride quality is usually better on the touring models also.
Both use the new'ish 103 ci motor, which puts out around about 100 lb.ft at the rear wheel, but more importantly is silky smooth compared with the 96 ci (1598 cc) engine it supersedes and has noticeably more shove in the all important, for genre, 0-60 mph range. Again both have quick detach screen and panniers making them practical.
However the King has the posing rights when stripped bare. It has the period looking wire wheels, front spot lights (another standard benefit), detachable pillion seat, white-wall tyres and a huge chrome headlight nacelle that looks beautiful from the riders seat in the sunshine.
I rode one on Sunday with 10 miles on the clock and it was a thoroughly pleasant experience. I also rode some other Harley's back to back and these were my personal thoughts:
Dyna - Street Bob
... looked too plain and felt too cramped for my 6ft 2" frame. Old 96 ci engine and 5-speed box showing its age. There's a reason why they're called ape-hangers, they're not made for humans.
Touring - Road Glide Custom
... a very smooth, comfortable and practical ride. Fitted with the most ugly fairing appendage known to man. Passed out drunk beer goggles required.
Softail - Blackline
... very low bike (24") but gives a fair ride - softail shocks usually the most jarring/least available travel. Well balanced, bars come back to rider. Bit cramped for me, ideal for short in leg. Needs better seat for long runs.
Touring - Road King Classic
... great ground clearance, very smooth and comfortable, classic looks, well equipped (cruise, abs, keyless, panniers), much to like.
Dyna - Wide Glide
... I like the chopper looks (black with flames, sissy bar) but expected it to ride horribly. However feels light for genre, good ergo's and rockets along effortlessly on its 103 motor. Similar acceleration to Diavel using midrange revs to 50 mph.
Touring - Street Glide
... I once rode one in the UK. It had perfect riding position and comfort for me, but wore poor tyres, it was raining and I rode it like I stole it. I found it unassured on wet drains, heavy to steer and buffeted horribly above 70 mph. But I loved the ride this time around. It's HD's current best seller and was hard to grab the demo bike taking quite a few attempts. I did notice a bit of buffeting at 60 mph, but realised on the way home that was no worse than 60 mph on the Diavel (open face lid). It has a lot of gauges (useful) for volt, fuel, revs etc. And a high quality Harman/Kardon stereo (not that useful to me) that has Sirius (satellite) radio and allows plug in of MP3 players. The bike steers fine and has road presence. A bike has perhaps never been better named as it just serenely glides along the road so smoothly and effortlessly. With a full face lid or kept below 70 mph you could do seriously long days on that saddle. Not cheap to buy.
The demo day was fairly successful in reigniting my interested in the marque. They make some sense to an ageing clientele in the UK. But they make a whole lot of sense over here in the US. In fact I don't actually think they make them for any other market, they just hope people in other countries will embrace them too!
One major plus that they do have, particularly the tourers is superb low speed balance. They really are easy to manoeuvre, which those short in the leg you would really appreciatte. Of course you don't have the turning circle of a sports bike, but they are far more reassuring to u-turn on wide American roads than sports bikes are. You really can trundle them down to very low slow walking pace without any worries they'll topple over. Probably why the coppers favour them for leading carnival processions etc?
Once moving the weight really is a non issue. Of course in first gear traffic light turns you concentrate slightly more than you might on a small streetbike but they are in no way wayward, the whole genre has come on.
I know for certain that even those not interested in HD or custom bikes would still enjoy riding one or two a whole lot more than they would imagine. Of course they're unlikely to trade their R6; but if they put away pride and tried a few bikes from the different ranges, then they'd certainly respect what they're made for more.
I used to the think that the 96 ci engine was much more powerful and smoother than the twin-cam 88 before it and especially the 1340 Evo before that. Because it was and is. But the 96 felt a bit rough and a little underpowered compared with the 103. That really is a sweet riding power-plant. So super-smooth it's almost lacking in character! Using midrange revs is all that is required to make one of the touring bikes thunder up to the speed limit. 0-60 really doesn't really feel 'that' much slower than the Diavel at real world low to midrange revs. A really classic engine that feels un-burstable in it's longevity.
It should also prove to be very reliable as all their big bore engines seem to have been since the intro of the 1340 cc Evo engine back in the mid eighties. Easy to access engines and belt drive help on the maintenance side, they're pretty frugal and have some quite tech aspects to them like the rear cylinder will shut-down at tickover revs if the bike is hot to take heat away from a rider on a hot day when sat at traffic lights and reduce fuel.
Other things I like are the very best self-cancelling indicators in the business, a keyless ignition that actually fits on your key fob (Ducati please take note!) a perfect alarm system - you can push the bike around (handy at the petrol pumps when one is out and you need to push it, or when cleaning/general maintenance), but turn on the ignition or attempt to hot-wire and the alarm will go off. A probably the best hand-finished paint jobs too. And of course a lot of the bigger bikes have 6 gallon fuel tanks, giving a 250 mile, or so, range. Why can't the Japanese and European manufacturers offer that more often?
These are the sort of aspects that make 'ownership' enjoyable. But are rarely spoken of by journalists in bike tests because naturally they're not living with the bike, they're passing comment on how it performance, rides and looks. But if the hacks looked close enough they'd see the easy to live with stuff, like a fuel cap that doesn't need a key or panniers with internal quick release dzus (ring-twists) connectors; along with the stuff you'd hope they would mention like the impeccable fuelling, light-pull clutches and rubber mounted engines.
Anyway, enough of my ramblings! Hope I explained why the RKC costs more. And hope you enjoy the rides Kev, especially the 103 mill, its a peach.
Donate to the Kevin Ash Fund
Donate directly to the Kevin Ash Fund setup by the Telegraph to help with the education of his three daughters.
The Telegraph can only accept cheques and Postal Orders in Sterling. If you'd like to make a donation but you can't send a cheque or Postal Order then you might consider using PayPal, which will accept other methods of payment. A small percentage (about 3.4%) will be retained by PayPal for the service.
Kevin's family have been touched by the generosity and messages of support from people using the website and would like to express their gratitude to those who have contributed in any way.
The donations keep coming in, thank you so much, and the family especially like it when you leave a message.
NEWS...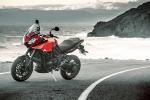 * TRIUMPH TIGER SPORT
The Tiger gets a single-sided swingarm and another 10bhp!...(more)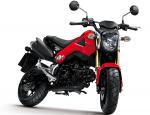 * HONDA MSX125
Honda announces a spiritual successor to the iconic Monkey Bike!...(more)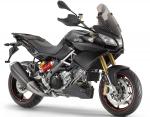 * APRILIA CAPONORD
At last Aprilia goes for the GS too......(more)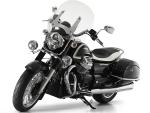 * GUZZI CALIFORNIA 1400
Italy's biggest ever V-twin for the all-new Guzzi...(more)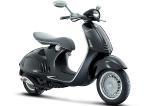 * VESPA 946 FIRST PIC
Sleek new Vespa 125 based on last year's concept bike...(more)