Rocker66
Offline
Whilst at Kent M/Cs today for my test ride on the Crossrunner I was loaned a CBR 250. I had forgotten how much fun a small bike can be a cruising speed of 80MPH could be easily achieved and the handling was excellent. I'm sure with a lighter rider on it would be even better. It was a bit like riding a 2 stroke in that it needed the revs to be kept up and it had no engine breaking.
It certainly seems to be an excellent bike for a young rider to get into biking on at low cost
Sun, 29/05/2011 - 09:57
#1
kevash
Offline
Re: CBR 250
A good excuse to plug my Honda CBR250R review, but yes, I agree completely. It's a different world of conserving momentum and riding flat out sometimes, but there's a lot of satisfaction in that. I suspect though there's some novelty value in it after years of bigger bikes which would wear off after a while. The effortlessness of bigger bikes makes life a lot more relaxed.
How di you get on with the Crossrunner btw?
Mon, 30/05/2011 - 19:03
#2
Re: CBR 250
I have to say that the 250s now are just SO quiet, sanitised and staid, as well as expensive.
My CBR250RR, which revved to 18,000 rpm was just so much more, well, alive.
Before that the RD250LC and Kawasaki KR1S were just 2 of many exciting 'quarter-litres'.
Donate to the Kevin Ash Fund
Kevin's funeral was held on Thursday 28th February and was well attended by family, friends and colleagues.
The Telegraph has very kindly established The Telegraph Kevin Ash Fund to assist with the education of Kevin's three daughters.
The Telegraph can only accept cheques and Postal Orders in Sterling. If you'd like to make a donation but you can't send a cheque or Postal Order then you might consider using PayPal, which will accept other methods of payment. A small percentage (about 3.4%) will be retained by PayPal for the service.
Kevin's family have been touched by the generosity and messages of support from people using the website and would like to express their gratitude to those who have contributed in any way.
The donations keep coming in, thank you so much, and the family especially like it when you leave a message.
NEWS...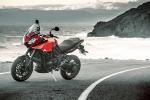 * TRIUMPH TIGER SPORT
The Tiger gets a single-sided swingarm and another 10bhp!...(more)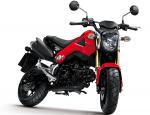 * HONDA MSX125
Honda announces a spiritual successor to the iconic Monkey Bike!...(more)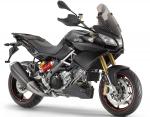 * APRILIA CAPONORD
At last Aprilia goes for the GS too......(more)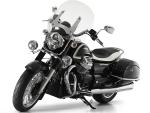 * GUZZI CALIFORNIA 1400
Italy's biggest ever V-twin for the all-new Guzzi...(more)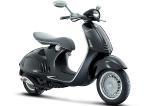 * VESPA 946 FIRST PIC
Sleek new Vespa 125 based on last year's concept bike...(more)