Pictures: Friedemann Kirn, Alessio Barbanti, Paul Barshon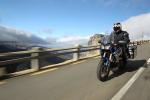 There`s no doubting which bike Yamaha`s new Super Ténéré is pitched at. In fact, it's almost a copy of the BMW R1200GS...
The German machine absolutely dominates the Adventure class, and in this, its 30th anniversary year, it`s looking as strong as it ever has. There have been few would-be rivals, but none which on paper at least have looked like presenting such a direct challenge as the Yamaha. Ducati`s Multistrada is certainly stealing sales, and it`s the first bike to do so with any significance, but even this is not quite the same kind of machine: it overlaps the BMW`s portfolio, no question, but it has its own, unique properties too and doesn`t match the German bike for rugged, off-road appeal.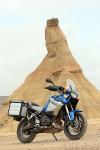 The Yamaha certainly does. Its power output is the same at 108bhp (110PS, 80.9kW), it has a 19 inch front wheel, 1199cc engine against the BMW`s 1170cc, twin cylinders, an aluminium luggage option, and it`s clearly designed for some fairly serious rough stuff as well as long distance touring. There`s even some proper heritage, as Yamaha is joint highest Paris-Dakar winner along with KTM.
The press launch spoke volumes about how Yamaha sees the bike being used. Journalists from different countries rode the Super Ténéré on three long legs, the first from Paris to Toulouse, the second from there to Madrid, and the final one which I took, from the Spanish capital to the Portuguese one, Lisbon, around 600 miles (1000km) on a wide variety of roads.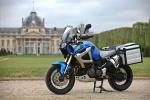 The Super Ténéré doesn`t have quite the street presence of the GS (even if that`s now rather dulled by familiarity), but it`s still a large machine with an imposing riding position. It`s heavy too when you`re wheeling it around, confirmed by the spec sheet which says it`s 261kg (576lb) with a full tank against the GS`s 229kg (505lb), but fire up the motor, get the bike rolling under its own steam and its outstanding balance means the mass on the whole doesn`t interfere with the handling. The overriding sensation at all speeds is one of stability: around town you can trickle the big Yamaha down to walking pace with barely a wobble, and stop it dead for a while before needing to put a foot down.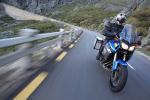 Increase the pace on a motorway and it tracks true and steady, and keeps doing so at well over 100mph (160kph), while on twisty roads it`s enjoyable for tracking precisely and with more feedback from the tyres than you get on a GS. The Bridgestone Battle Wings are worth a special mention for their extraordinary grip in all sorts of conditions, including wet and slippery, although they`re very biased towards Tarmac in their dual purpose role and won`t help you out much in soft off-road going.
Where the Yamaha gives way to the BMW is in agility. It responds to handlebar input well enough but lacks the speed of direction change of the German bike, giving it a more business like and less lively feel. But like the GS there`s little reaction from the rear suspension to the shaft drive, despite its simplicity, although the ride quality does suffer for the extra mass compared with chain drive, something you notice particularly as harshness and thumping at high speeds across ridges and pothole edges.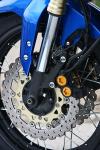 The front is more plush as well as communicative, flying the flag for conventional forks over BMW`s Telelever, and thanks to the linked braking system, front end dive (almost zero on the GS) isn`t too severe either, despite the 220mm (8.7in) of travel. If you pull on the handlebar lever before touching the rear brake, the system automatically distributes some of the braking force to the rear calliper, according to load as well as applied stopping force, and this helps keep the bike especially stable when slowing, even when the ABS starts to chime in.
Push the rear brake pedal before you pull the lever however and the system doesn`t activate, leaving you with conventional braking which is more useful in some circumstances, such as fine speed control in U-turns. What you can`t do is switch the ABS off, which won`t bother 100 per cent road riders, but will raise an eyebrow in those who thought the Super Ténéré was intended for off-road use too. In practice this won`t matter too much as the ABS was remarkably good when I found some soft sand to try it in, still slowing the bike rather than letting it run on, as most systems do in very loose going. Even so, deleting the ability to lock up a wheel does detract from the bike as an off-road package.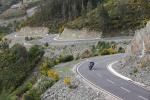 But it`s Super Ténéré as tourer which matters to most, and most of what you need is in place. The fuel range is good, the 5.1 gallon (23 litres, 6.1 gallons US) tank being enough for more than 200 miles (320km). Economy on the trip varied between 45mpg (15.9km/l, 6.3 l/100km, 37.5mpg US) in gentle riding to 40mpg (14.2km/l, 7.1 l/100km, 33.3mpg US), which means a range to dry of 200-225 miles, although I suspect harder use will see this fall to the mid thirties mpg. The on-board fuel computer was consistently optimistic by around 6 per cent, so be wary of claims you might read judged on this alone.
These days the cost of fuel is increasingly important as well as outright range, and here the Yamaha suffers against the frugal BMW, which I`d judge is around 15 per cent better - that manages a similar range with a 4.4 gallon (20 litre, 5.3 gallon US) capacity.
Comfort is up to the mark too, although you might need to juggle screen and seat height to minimise turbulence. It`s not buffeting which is the problem so much as noise, which is excessive at normal motorway speeds if you`re a touch too tall. There`s a higher accessory screen which might help, and the standard one can be raised, although this is unnecessarily time consuming: first remove the seat to access an Allen key. Next use that to remove the right fairing panel and take out the toolkit. Then undo the four screen screws, and lever out the threaded grommets they locate in. Move these to the higher holes and bolt the screen back on, then clear up the tools...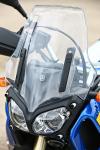 Not something you`ll be doing between town and countryside then. The problem is the screen is very far away from the rider. I have long arms and sitting normally couldn`t reach the screen with one arm stretched out - not that you need to, but it demonstrates the distance. If you can get it right the noise is still quite high but acceptable, and while there`s some vibration from the air, it`s not too bad.
This arm-waving does demonstrate an ergonomic annoyance, which is the button to scroll through the on-board computer display (economy and ambient temperature as well as the basics) is positioned on the dash rather than on the left switchgear, as Ducati and BMW do, which means it`s a big stretch whenever you want to look at the info.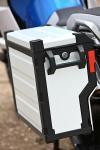 The panniers will irritate too as you can`t leave them unlocked, so every time you want to open one you have to remove the bike`s ignition key. Then the pannier lock is fiddly and stiff, the latch unconvincing, and you can only open the lid from the back end, where BMW`s clever design allows you to open from either end or take the lid off altogether. While these panniers are standard on the limited number of 2010 models, Yamaha will ask for more money if you specify them on a 2011 machine. I`d go for some Touratech ones instead.
They don`t help the pillion either, pushing the passenger`s feet forwards on the footrests which means your thighs start to ache as you hold yourself forward. With this luggage fitted you`ll need either a backrest (such as the optional topbox) or just snuggle up to the rider and hold on. In all other respects the rear accommodation is very good, with no nasty turbulence, plenty of room and well placed grab handles (although these don`t feel great to hold for long periods).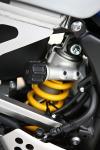 The bike itself is very stable with two people on board. You need to jack up the rear spring preload by hand (no electronic suspension here, even as an option), but this is straightforward and there`s an easy-to-read height indicator so you know how far you`ve done it, and where to set it back for solo riding. Once set up for two, the bike is impressively secure and easy steering.
The performance isn`t affected too badly by carrying a passenger either, although with so much weight to haul about even solo, the proportional increase isn`t so great. But this is where the Super Ténéré will disappoint. Where the BMW is lively and willing - especially the 2010 model with the double overhead cams - the Yamaha can sometimes feel laboured. There`s not so much oomph at low revs, and while the mid-range is reasonably strong, it starts to fade as you rev it hard. The BMW simply feels more muscular and alive, on top of which the boxer twin`s thumpier feel and distinctive exhaust note add character where the Yamaha is smoother, quieter and for those reasons, bland.
In most circumstances it`s sufficient, if unexciting, but given extra to do, such as adding a passenger or as we did on our route, climbing to 5,000 feet (1,500m) and higher in thinning air, then you start to need to work the gearbox to maintain pace. Then you find the twistgrip against the stop sometimes, which on a 1200 twin it really shouldn`t be.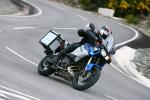 There are two engine map options, Touring and Sport, but after trying Touring for about 15 minutes, I never used it again in 600 miles, regardless of conditions, it gave the engine such a flat feel. Sport is crisper but it`s hardly going to scare you, even in the wet or off-road.
Vibration levels are always manageable, and better at high revs than on earlier BMW GSs, although the 2010 model is much improved in this respect. You feel some at speed on the motorway but it`s not intrusive.
While equipment levels are no match for a fully specced GS or Multistrada, you do get some options, including the high screen mentioned earlier, a fog lamp kit, heated grips and 35mm lower seat (the standard is adjustable between 845 and 870mm), as well as minor items like LED indicators and logoed tankpad.
The problem here is, more than 80 per cent of BMW GSs are ordered with very high specifications, and you simply cannot have all that kit on the Yamaha. The only real concession to the latest electronics is the traction control system, but this is a basic one designed as a broad safety aid rather than a Ducati-type corner exit improver. There are three settings, one which prevents any spin, one which allows some for off-road, and the third is simply off. The kind of spin it prevents is what most riders would control by shutting the throttle, it`s not for cracking the twistgrip open wide while leaned over at an apex, so don`t get too excited about it.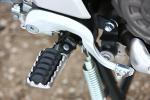 There are some neat standard touches though, such as the dual purpose footrests. Sit on the bike and your feet rest only on the rubber, which provides enough grip to prevent sliding in the wet and isolates from vibration. But stand up and the extra weight compresses the rubber enough for your boots to rest on the serrated metal edges of the footrests, so they stay in place even when muddy.
The luggage rack is adaptable too. A plate removes so it can support the topbox, or the rear seat can be removed to provide a flat and much longer carrying area. On the detailing downside, the paint on the sides of the fuel tank was already showing scuff marks and scratches where legs had been rubbing, and these bikes were only a few weeks old. Some protection will definitely be needed to stop it looking scruffy very quickly.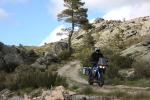 There was also some confusion about the crankshaft layout, or rather its benefits. This has the crankpins 270 degrees apart, as on older Yamaha twins like the TRX850, and in fact is a crossplane design like the R1`s. Where once this was designed to make a parallel twin sound like a V-twin (as with the Triumph Bonneville America), now the marketing hook is its almost zero inertial torque. The Yamaha press pack claims this improves traction, but Yamaha`s engineers suggest this isn`t the case, it simply improves the traction feel, allowing the rider to find grip more easily rather than increasing the amount available.
None of which is especially relevant to a typical Super Ténéré buyer. And who that will be isn`t especially obvious: while the bike is a close match for the GS in many respects, the performance doesn`t sparkle in the same way, nor can you load it up with the extras most GS buyers want. The Yamaha`s problem is, it`s simply a GS clone. Rather than offering more, in fact it gives you a little bit less, and at £13,620, for a higher price too. In this respect it`s reminiscent of the many Japanese Harley-Davidson clones, all copying the original concept without adding to it.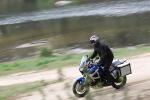 Like those cruiser copies compared to Harley originals, to buy a Super Ténéré you really have to not want a BMW, or specifically want a Yamaha. For some this will be enough: Yamaha`s reliability will probably be better (though R1 crank and clutch issues mean this isn`t guaranteed), and the sheer number of GSs around means there`s appeal in having something different. But where a Multistrada adds a unique Ducati angle to the adventure bike theme - ultra high performance and cutting edge electronics - the Yamaha offers nothing new.
It`s a perfectly good bike and a fine long distance tourer, but the GS has more options, is cheaper, lighter and is more fun.
Price: £13,620
Power: 108bhp @ 7,250rpm
Torque: 85lb.ft @ 6,000rpm
Fuel capacity: 5.1 gallons (23 litres, 6.1 gallons US)
Weight: 261kg (576lb) (wet, full tank)
Economy: 42mpg average (14.9km/l, 6.7l/100km, 35mpg US)
Range: 215 miles (350km)
Recent comments
In HONDA NC700X, kharli wrote:

In HONDA NC700X, kharli wrote:

In HONDA NC700X, kharli wrote:

In HONDA NC700X, Grump wrote:

In HONDA NC700X, kharli wrote:

In Lest we forget..., Captain Scarlet wrote:

In Captain Scarlet's next bike, malauder wrote:

In Captain Scarlet's next bike, Captain Scarlet wrote:

In Benelli 750 SEI, CCM wrote:

In Benelli 750 SEI, Gekom57 wrote:

In Benelli 750 SEI, Gekom57 wrote:

In Captain Scarlet's next bike, Grump wrote:

In Captain Scarlet's next bike, Navy Boy wrote:

In Captain Scarlet's next bike, Captain Scarlet wrote:

In Captain Scarlet's next bike, Grump wrote:

In HONDA NC700X, Grump wrote:

In Lest we forget..., Navy Boy wrote:

In Lest we forget..., unconventional rebel wrote:

In Captain Scarlet's next bike, unconventional rebel wrote:

In HONDA NC700X, unconventional rebel wrote:
Donate to the Kevin Ash Fund
Kevin's funeral was held on Thursday 28th February 2013 and was well attended by family, friends and colleagues.
The Telegraph has very kindly established The Telegraph Kevin Ash Fund to assist with the education of Kevin's three daughters.
If you'd like to make a donation then you can use the PayPal 'Donate' button below which will allow you to donate from your PayPal account, or via credit or debit card. A small percentage (about 3.4%) will be retained by PayPal for the service.
Kevin's family have been touched by the generosity and messages of support from people using the website and would like to express their gratitude to those who have contributed in any way.
The donations keep coming in, thank you so much, and the family especially like it when you leave a message.