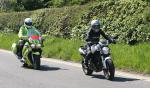 'ello 'ello 'elloIt's Friday night and my nerves are starting to show. I find it hard to eat my dinner. Tomorrow I'll be off doing my first solo ride, further than my local Tesco shop! Not entirely true as I have had the Monster for a week and I have gone off by myself enjoying the Cotswolds. But tomorrow is different. I am riding down the motorway to taking a BikeSafe course in Leicestershire. I am excellent at envisaging beforehand all the things that could possibly go wrong. Forgetting to put fuel in the bike, making silly riding mistakes or not keeping up with the rest of the group. Well, I left nice and early, with a rucksack full of things girlies need and a big heavy Canon camera. The weather was gorgeous; sunny blue sky and a promise of some heavy baking in my leathers for the afternoon. I love Saturday early morning riding. Not a soul on the motorway, so I can do what I like. Cruise down the road at 50 to get used to motorway riding, which I have not done since riding to Silverstone last year? I pick up speed and notice 60 is the same as 50, only a bit faster (obviously). Looking in the mirror is funny, as everything behind you shakes up and down. 70 feels fine too and I let the road take me to Leicester.
I take the two roundabouts after coming of the M69 with little grace, but I end up (with a bit of luck) in the supermarket's petrol station where I had planned to fuel up.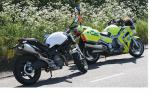 'My' Ducati MonsterIt's only a short wobble to the Leicester's police head quarters. I am pleased to arrive. This is the beginning of my long-term goal. I am excited to have not let myself down so far and with a grin on my face I look forward to start the course. If I can ride to Leicester, I can do anything! I meet up with the other rider taking the course. We realise we are the only riders, it's two riders with one instructor our assessor, Dazz, informs us.
Thank goodness I spotted I had to take my driving licence and insurance certificate with me on the day. The day before I'd had to make a quick phone call to Bobbie at Ducati to ask for a copy of the insurance policy, or my day would have had to stop there and then!
After the formalities were finished we watched some old animated videos with shocking motorcycle accidents. Heads being taking off by lorries, flips over cars, diving into hedges. I have seen it all now. I was shocked, as I had not anticipated watching something like that, but I think it is good to know where you end up if your or other road users get it wrong. We look at potential accident obstacles, positioning, cornering, filtering, and group riding.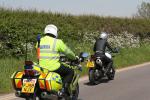 Dazz keeping an eye on meWe took to the road, and I offer to go first. I haven't mastered pulling away well and I feel like I have just started learning to ride a bike. With Dazz behind me looking at my unsteady moves, he must surely been thinking 'where to start?' with me. I pull up at the traffic lights outside the police station and I am confronted with one of my least favourite positions. On a hill, having to stop and then pull away from the traffic lights…… in a nice and controlled way. If this was a test I might as well turn round now and go home. But nothing happens and I ride up the road looking constantly in my mirror to see if I am going to be pulled over. He is a policeman after all! We stop at a lay-by to physically appreciate the importance of good positioning on the road. We look towards the upcoming bend whilst standing towards the centre of the road, and then whilst standing by the left hand verge. The difference is clear! It is a simple way to appreciate how important it is to position yourself well before a corner so you can spot potential exits or other obstacles. Jon, the other participant, and I, take some pictures and we move on.
Throughout the day we take it in turn to ride upfront and stop to have a quick briefing. It is tremendous fun to practice and then to be told you have obviously been listening and implementing it. Lunch was provided. As the day progressed I felt more and more relaxed and I was improving fast. I am dreaming of having to ride for a living and I feel now a little bit what it must have been like for Kevin. A job to be envied. Back at the police station I witness a police helicopter taking off before setting off back home. I do not feel nervous anymore about riding! The Monster is not a monster after all, but a big purring pussycat.
Fri, 23/05/2014 - 17:43
#1
Nice one Caroline - Advanced training can be truly enjoyable if you approach it with the right attitude as you've done.
Sat, 24/05/2014 - 08:56
#2
kwh
Offline
Looking good...
I made a cheesy video about positioning for corners...
Recent comments
In Captain Scarlet's next bike, Grump wrote:

In Captain Scarlet's next bike, Navy Boy wrote:

In Captain Scarlet's next bike, Captain Scarlet wrote:

In Captain Scarlet's next bike, Grump wrote:

In HONDA NC700X, Grump wrote:

In Lest we forget..., Navy Boy wrote:

In Lest we forget..., unconventional rebel wrote:

In Captain Scarlet's next bike, unconventional rebel wrote:

In HONDA NC700X, unconventional rebel wrote:

In Lest we forget..., davvy wrote:

In HONDA NC700X, kharli wrote:

In Captain Scarlet's next bike, pittsy wrote:

In Captain Scarlet's next bike, Navy Boy wrote:

In Captain Scarlet's next bike, malauder wrote:

In Captain Scarlet's next bike, Captain Scarlet wrote:

In Lest we forget..., malauder wrote:

In Lest we forget..., Captain Scarlet wrote:

In Naturally self-centring, pittsy wrote:

In Naturally self-centring, kharli wrote:

In Naturally self-centring, pittsy wrote:
Donate to the Kevin Ash Fund
Kevin's funeral was held on Thursday 28th February 2013 and was well attended by family, friends and colleagues.
The Telegraph has very kindly established The Telegraph Kevin Ash Fund to assist with the education of Kevin's three daughters.
If you'd like to make a donation then you can use the PayPal 'Donate' button below which will allow you to donate from your PayPal account, or via credit or debit card. A small percentage (about 3.4%) will be retained by PayPal for the service.
Kevin's family have been touched by the generosity and messages of support from people using the website and would like to express their gratitude to those who have contributed in any way.
The donations keep coming in, thank you so much, and the family especially like it when you leave a message.