Moto Guzzi V7 Stone Review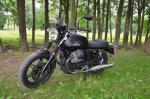 If ever a company has been through rough times, then surely Moto Guzzi has to be a contender for the role of ultimate survivor. In spite of so many obstacles over the years it is still churning out bikes and is today's oldest brand of European motorcycle manufacturer with continuous production. A legacy of bad management, circumstance and I have no doubt also bad luck, has seen it diminish in size from its heyday down to a true minority player. In 2004 it was taken over, by present owners, the Piaggio Group and as such has seen at least a base for stability materialise. Investment in the brand and a sharing of technology has seen some distinctive product in recent times. The smallest bike in the Guzzi range, the V7, has been on the market since 2008 and has been leading the way, as far as sales are concerned, in a recovery that is going on in the firm.
As is the way of things manufacturers are under pressure to make changes in their product but the people inside Guzzi must have been a bit wary to change too much on their bestselling bike, for the 2014 model year and well basically they haven't. The V7 comes in three versions – the entry level Stone then the Special and at the top of the range the Racer. In essence the primary difference between them is 95% styling as the all share the same engine, frame and most of the major components.
The engine is a 744cc V Twin four stroke, configured transversely in the classic Guzzi style, producing a far from eye watering 48 bhp and 58Nm of torque at a relatively slow 2800 rpm, running through a five speed gear box with final delivery to the rear wheel via shaft drive.
The Stone, tested here, is very widely acclaimed as a good looking bike and I admit that I am very much of the same opinion. The flat black finish suits the machine well and shows off its very simple and uncluttered appearance. Sitting on the bike makes it feel quite small with the other first impression I had being that the seat was like a plank of wood. That thankfully was soon forgotten and I can say that it was actually quite comfortable all the time I had it. The layout of the controls is in a very simple, classic style; speedometer and rev counter sit side by side at the top of the instrument binnacle which is laid out in a symmetrical design with the idiot lights arranged accordingly underneath. Interestingly the old style appearance is interrupted by two small LCD panels at the bottom of the clocks that show the trip meters in one and a time/temp in the other. It is these nods to modern life that actually function the least well as the numbers in the mileage display are so small, especially in the trip mode, that it is hard to see if you have done 60.9 km or 609 km. There are no niceties such as adjustable span levers on offer here, just things the way we used to have them in the old days.
The motors burbles into life on the electric start and settles immediately into an intoxicating rhythm. The gear lever has a fairly long travel and compared to some bikes you need to be positive with changes but not that it is a problem, far from it as the gearbox is generally very good. On the move the V7 has a nice smooth rolling wave of torque to ride that is quite endearing and easy to use around town yet also entertaining enough when out on the open road. This is no sports bike however and if you try to ride it like one then you are missing the point of this machine. That is not to say that it can't handle some twisties, as it most certainly can but gunning it hard between corners, trying to use late braking and extreme lean angles is not the way to achieve it. This is for no other reason than the fact that you shall soon run out of brakes and push the non-adjustable suspensions capabilities. It is much better to ride smoothly through the bends, using the fairly wide spread of torque to pull you out of one corner and onto the next. The rate of progress can still be high, as the bike does handle very well within its limits and there is something quite satisfying about stringing a good run altogether. Ridden as intended, the cycle parts all work well enough, though to be honest I would like some kind of adjustability on the suspension and maybe just a bit more feel from the brakes.
The bike is most at home in urban and back road environments, though owners should not be at all worried about taking it onto highways as and when required. It is more than comfortable at motorway speeds and will sit quite happily at legal limits with enough in reserve to get out of trouble at any time. If it is pushed hard and the engine asked to spin much above 6000 rpm then vibration is felt through the footrests and this can get very noticeable and intrusive quite quickly. At any other time, as with all twins, the rider is aware of some vibration but it is always delivered in a pleasing way. The biggest restriction to sustained motorway jaunts at high speed, is most like to come from the rider and the wind blast to the chest. That, of course, is just the nature of naked bikes.
As said previously the V7 has been a sales success for Moto Guzzi and obviously there are a lot of people out there who understand what the bike is all about. It certainly turns heads and you do feel just a little bit special when riding a Moto Guzzi. It is one of those brands that it seems almost impossible to not like. They have heritage, style, class, credibility and that undefinable something that sets them out as being a little bit different. This may be the smallest and cheapest bike in the Moto Guzzi range and you could arguably say that there are cheaper bikes, better equipped, higher spec'd and widely available that compete in the same class. As far as I can see though are not so many of them that would still give me that kind of special feel or connection after a few months ownership as the V7 would, if I were in the market for this kind of machine. In spite of some limitations I do believe that the overall package would always make me smile and at the end of the day it will still be a Moto Guzzi and they have been building character longer than almost anyone else.
Recent comments
In HONDA NC700X, kharli wrote:

In HONDA NC700X, kharli wrote:

In HONDA NC700X, Grump wrote:

In HONDA NC700X, kharli wrote:

In Lest we forget..., Captain Scarlet wrote:

In Captain Scarlet's next bike, malauder wrote:

In Captain Scarlet's next bike, Captain Scarlet wrote:

In Benelli 750 SEI, CCM wrote:

In Benelli 750 SEI, Gekom57 wrote:

In Benelli 750 SEI, Gekom57 wrote:

In Captain Scarlet's next bike, Grump wrote:

In Captain Scarlet's next bike, Navy Boy wrote:

In Captain Scarlet's next bike, Captain Scarlet wrote:

In Captain Scarlet's next bike, Grump wrote:

In HONDA NC700X, Grump wrote:

In Lest we forget..., Navy Boy wrote:

In Lest we forget..., unconventional rebel wrote:

In Captain Scarlet's next bike, unconventional rebel wrote:

In HONDA NC700X, unconventional rebel wrote:

In Lest we forget..., davvy wrote:
Donate to the Kevin Ash Fund
Kevin's funeral was held on Thursday 28th February 2013 and was well attended by family, friends and colleagues.
The Telegraph has very kindly established The Telegraph Kevin Ash Fund to assist with the education of Kevin's three daughters.
If you'd like to make a donation then you can use the PayPal 'Donate' button below which will allow you to donate from your PayPal account, or via credit or debit card. A small percentage (about 3.4%) will be retained by PayPal for the service.
Kevin's family have been touched by the generosity and messages of support from people using the website and would like to express their gratitude to those who have contributed in any way.
The donations keep coming in, thank you so much, and the family especially like it when you leave a message.