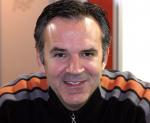 In July 2008 Harley-Davidson stunned the biking world by buying struggling MV Agusta. I spoke to Matt Levatich, the Harley man with the job of reviving and running the flagging Italian icon
Pictures: Kevin Ash (Click on images for larger versions)



This feature was written in November 2008, but in summer 2009 Matt Levatich was transferred to Milwaukee as President and COO of Harley-Davidson. Soon after this he had to make the extraordinarily difficult decision to help the very survival of Harley-Davidson by putting MV Agusta up for sale, as well as closing down Buell.

Harley-Davidson and MV Agusta... you couldn't choose two more different bike manufacturers. The original lazy American cruisers and the classic Italian superbike exotica are at the opposite ends of the motorcycling spectrum, so what on earth did Harley hope to achieve in its purchase of MV in the autumn of 2008?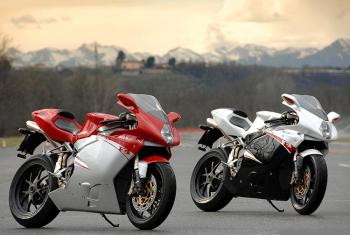 The MV Agusta F4, the most beautiful motorcycle in the worldOr is it as simple as that? Stop thinking of the bikes themselves and consider the brands: both are among the most famous names in motorcycling, both have long and rich histories, each has an army of loyal followers, each is inextricably associated with the country it's based in... Each, in short, is an immensely powerful brand, and as Harley has proved so adept at understanding, nurturing and promoting its own name, so maybe it does have something to offer MV, and MV to Harley.

I spoke to the man Harley-Davidson has installed to run MV and the Varese factory, Matt Levatich. What is the new set-up, and the question many people want to know, are Claudio Castiglioni and Massimo Tamburini still involved? These two men after all have been responsible for some of the most beautiful and influential motorcycles ever made, including the Ducati 916 and the MV F4, and don't forget the Cagiva grand prix bikes of the early 1990s. Castiglioni was also responsible for rescuing Ducati from extinction in 1984 and played a part in the conception and birth of the seminal Monster. Levatich is clear on this: "Claudio is staying with us as Chairman of the Board, and is responsible for research and development (which the Americans call product development). This is perfect for him, as maybe he's not been so good on the business side but in this his record's incredible. We've agreed to try and agree with Tamburini, he's still undecided but we're working on it. It might not work but we're hoping it will – this is all about the people, that's our big investment, which is why for example we will be keeping the Cagiva Research Centre in San Marino. On paper it's inefficient to do this, but as well as Tamburini being there, there are many other very talented people who would all have to move far away if we closed it. And of course we'd lose many of them, so we won't do that."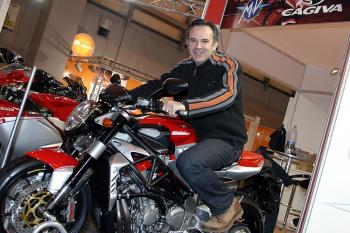 Matt Levatich with the MV BrutaleWhat is Harley-Davidson bringing to MV Agusta? "There is some technology that will be useful of course, but we see ourselves in a liberating role. What we mustn't do is mess up what's good, and our funding can allow MV to flourish and produce more great motorcycles. But the business has been running on life-support for two years, and that's been hurting dealers and distributors with bikes not being shipped on time, the wrong colours arriving, spares problems and so on."

Isn't the current economic climate a bad time to be putting money into a failed factory? "Not really, and you can argue that now is a good time to invest. We're not wavering because of the world's money problems, you just have to hunker down... things fluctuate and always have, Harley and MV in the past have been through bad times as well as good. We have good financial depth."

Sorting out the finances is the priority then? "We have three objectives with MV, not just the money. One is new product development, to get those ideas out of Claudio's head and into the metal. Amazingly the MV F4 is now twelve years old, and work on the engine started in the mid-1990s!" This is an incredible fact in the superbike sector especially, where bikes are refreshed every two years and replaced completely every four, with technology moving forward at the hottest pace in any sector. Yet the F4 is still a pace setter, having won the Italian superstock championship and various other titles and races.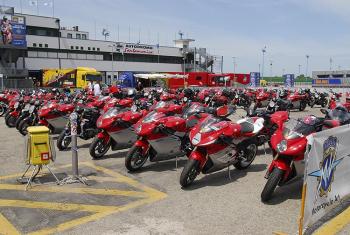 Loyalty to MV from suppliers and customers alike is immense"What is incredible is not just the great team and talent that are still at MV despite the problems but how many others have stood by the company, including many suppliers who might not have been paid for up to six months! Even so, our second objective is to restore stakeholder confidence in MV, which means the suppliers and people we develop bikes with. The communication must be more active, meaning we involve them in new projects and get feedback from them – they are an integral part of the business and must be treated properly. This also includes dealers, and we're having plenty of meetings with those to involve them once more.

Distribution has been a big problem with MV in the last few years, how will this change? "This is the third objective, to put this right. Today MVs are sold on to other businesses, a few bikes are pedalled in dealer showrooms where they sit until someone looking for an MV finds them. It's a very passive environment, yet the dealers are where the rubber meets the road, the customer faces the product, and it needs to be much better."

Will Harley dealers understand MV customers though? "The MV dealer network will be treated entirely independently. Dealers will be chosen only because they will make good MV dealers and are in the right locations. If they also happen to be Harley dealers that's fine, but this isn't a factor in choosing them."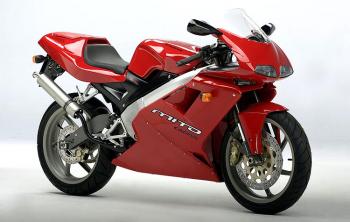 Cagiva comes as part of the MV Agusta package and has potential, according to LevatichThis all makes sense, but why did Harley-Davidson buy MV Agusta in the first place? "We have the technology now at Harley to produce a bike like the F4 but it just wouldn't be a credible performance machine. Building a brand from scratch is very difficult and expensive, but in MV we already have that. BMW's approach, producing its own brand superbike, is very high risk, the bike absolutely must work."

And what MV Agusta offers Harley is not only a credible opening into a new market sector but another means of getting into the European market, where MV is much stronger. Indeed, Levatich is only looking at growing MV in the USA in the longer term, and not worrying too much about that just yet.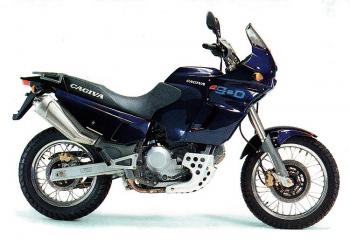 A new Elefant could do well with the growth of the adventure bike marketAny ideas on growth and numbers yet? "We do have some target figures but I'm not revealing them! I will say though that we are aiming to make MV a major player in Europe. We need a broader product range, but we must grow profitably and must enhance the brand as we do, which all points to cautiousness. But don't forget we have Cagiva too to help with that. The Mito is a fabulous bike, and the Elefant – what a great name for a motorcycle! – would be a good one to bring back."

And racing? "The heritage of this brand is very strong, incredibly so really, but we can't live off the heritage for ever. Racing is not our immediate priority, there's other stuff to sort first! But the soul of this company is racing, all of the people in it love racing, and ultimately I would like to see MV racing again."

So, not just money but empathy and understanding are coming from Harley – no chance of a Harley-engined MV then, nor indeed of a howling four-cylinder Harley. Let's just hope the world's financial storms really can be weathered at this crucial stage.



Recent comments
In HONDA NC700X, kharli wrote:

In HONDA NC700X, kharli wrote:

In HONDA NC700X, Grump wrote:

In HONDA NC700X, kharli wrote:

In Lest we forget..., Captain Scarlet wrote:

In Captain Scarlet's next bike, malauder wrote:

In Captain Scarlet's next bike, Captain Scarlet wrote:

In Benelli 750 SEI, CCM wrote:

In Benelli 750 SEI, Gekom57 wrote:

In Benelli 750 SEI, Gekom57 wrote:

In Captain Scarlet's next bike, Grump wrote:

In Captain Scarlet's next bike, Navy Boy wrote:

In Captain Scarlet's next bike, Captain Scarlet wrote:

In Captain Scarlet's next bike, Grump wrote:

In HONDA NC700X, Grump wrote:

In Lest we forget..., Navy Boy wrote:

In Lest we forget..., unconventional rebel wrote:

In Captain Scarlet's next bike, unconventional rebel wrote:

In HONDA NC700X, unconventional rebel wrote:

In Lest we forget..., davvy wrote:
Donate to the Kevin Ash Fund
Kevin's funeral was held on Thursday 28th February 2013 and was well attended by family, friends and colleagues.
The Telegraph has very kindly established The Telegraph Kevin Ash Fund to assist with the education of Kevin's three daughters.
If you'd like to make a donation then you can use the PayPal 'Donate' button below which will allow you to donate from your PayPal account, or via credit or debit card. A small percentage (about 3.4%) will be retained by PayPal for the service.
Kevin's family have been touched by the generosity and messages of support from people using the website and would like to express their gratitude to those who have contributed in any way.
The donations keep coming in, thank you so much, and the family especially like it when you leave a message.