Kevin Ash (1959 -2013) - Tributes
Caroline Ash and Laurien Ash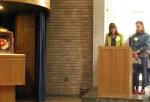 By Caroline
My Kevin, I have lived with you for many years, but not nearly enough.
I remember so clearly the first time I saw you. I fell in love with you and our relationship began without any hesitation.
My fondest memories of those early days are always of you arriving on your bike to pick me up- both of us enjoying the mad fast bike journeys together (we were often late). I remember clearly seeing you ride towards me over the bridge and each time it filled me with so much joy.
I wish we could have grown old together, realising our dreams of travelling to the places you have already been, and new ones to discover together. We planned to go back to the United States this summer- as our family holiday there a few years ago was so wonderful. You always described the places you had been to and the funny things that had happened, so it was almost as though I`d been there with you. All our dreams have been taken away from us, our plans to discover the world together. Now Ingrid is growing up a little we had been talking about doing more trips with just the two of us. But I will always treasure the time Kevin and I had together on Route 66 and the Tridays trip to Austria, and our lovely holidays as a family.
I am very sad that we will no longer be able to go together.
The girls and I will miss "Papsie`s silly jokes" which certainly were silly, but most of the time very witty. You could think up these jokes so fast, and so successively. I`ll cherish the memories of the girls` friends coming round, and you making them all laugh. Papsie jokes were the best, and we`ll miss them.
My Kevin, I am so proud of him, he would always come up with new ideas, never shy of trying something he hadn`t done before. We needed a garage - so we built it together without hesitation; we needed a new kitchen, he built it from scratch.
I remember clearly the time he fitted our new central heating system - it was very late, and Kevin had just finished on the landing making the final connections. He was nailing down the floorboards when he hammered a nail directly through the newly installed pipe - flooding the landing.
As tired as he was, he set about repairing the pipe straight away - like always he was never defeated by setbacks, and refused to ever call in builders or electricians - he could do it all himself. This always happened after a long day at work and late in the evening, meaning there could be no emergency trips to the DIY stores.
We loved the triumphs of completing a project on each of the houses we have lived in. As Kevin worked long days and children demanded his time too, it often several years longer then planned.
One of these projects was in the first home we bought together in Ipswich. With help from Mogs and his hammer we demolished the internal walls in the kitchen, creating one large room. As money was tight, we decided to tackle the plastering ourselves. It was a huge task, but after weeks of hard work the plastering was finished one very, very, late evening. Kevin and I sat on the bare floor drinking wine and it was bliss.
During his life, my Kevin has given the best present that anyone can ever receive. He gave it freely and with full enthusiasm time and time again. Kevin has given the girls and everyone he had contact with the encouragement to do, create and become what they wanted to be. Kevin encouraged the girls to be individuals, to choose their own path, and together we encouraged the girls to choose a career that would give them as much pleasure as Kevin himself had. He made his two hobbies, writing and riding motor bikes, his career. He always said "Strive to do what you enjoy doing and life will be fun."
Kevin always made time to listen and help people even if work deadlines had already passed. He loved encouraging and supporting people to try new things.
Kevin, we are both sad that you will not see the girls grow up, and that we can`t watch their lives unfold together. But I promise you that I will do my very best to love them and help and look after them as well as I can for both of us - so you can be as proud of me as I have always been and always will be of you. I will miss you forever.
Love you lots.
Bumps
by Laurien
One thing that always embarrassed me as a child was that we didn`t call him dad, but Papsie. This was the result of us being brought up Dutch at home, whilst living in England. Calling him Papsie, as all Dutch 2 year olds call their fathers - we never made the switch to Pappa, I imagine because our parents thought we sounded cute - so we somehow ended up calling him the equivalent of Dadsies all our life. Shouting out for my dad in Holland was something I only ever did as a last resort.
But I`ll cringe slightly now, and call him Papsie as we always do.
As Stephen has already said, the only cooking my dad ever did was the occasional chip shop run. Apart from beans on toast, I do have one memory of him making us dinner once however - in Italy, when I was about 10 years old. My mum had prepared all, leaving the instructions to just add the tinned tomatoes to the mince and onions, and then not to touch anything else.
We sat down to dinner, and everything was unusually quiet as we tried to work out why the Bolognese tasted so strange - until we spotted the empty pot of strawberry jam next to the cooker.
Kirsten was the only one to finish hers - she`d never had spaghetti so deliciously sugary. After failing to distinguish jam from chopped tomatoes, he never ventured into the kitchen again.
Although Papsie was continuously telling us how cool he was - we always rolled our eyes as children should. He was the dad that would turn up to my school performance late: having ridden straight from Heathrow - I remember he slammed the door open dripping wet, and having spotted his seat, clambered over all the other smartly suited parents, clunking his helmet against their knees and chairs- and attempting to do all this as quietly as possible, which was not easy considering his height and the bulk of his wet weather gear. This is how my dad featured in all of my school days: I was proud that he was the single biker amongst suits and canapés -He was a good person to laugh at, which we did a lot.
As I became older, I was continually surprised how much further Papsie went than most dads in making sure his children and his wife were happy. Anything, no matter how extreme, or how limited he was on time, would be done if it would make things easier for us.
On deciding I wanted to learn to make bricks - the only source of clay I could find sold it by the half a tonne - so it not being far away - he offered to collect it for me himself, as I was ill. On collection, it turned out that he had to dig it straight out of the ground- so found himself in a sodden field at 9 on a Sunday morning, digging half a tonne of clay out of the ground and into his car - only then realising how much more half a tonne was than he`d anticipated.
We often put him, quite accidentally, into odd situations - but he always saw the humour of it - only commenting that it was not what he expected to be doing on a Sunday morning, and reaching for the kettle.
Whatever the problem was, whether setting my room on fire, accidentally gassing myself with chlorine, or gluing my hands to a pair of marigolds with roofing tar - he would always pick up the phone - asking what the latest disaster was, laughing and then doing whatever needed to be done - whether building a shed or staying up all night teaching mechanics.
Before the age of smart phones, he doubled up as both a dad and a GPS system. As I was more often lost than not - I knew that it would always be fine, as he would be sitting at his desk, always willing to work out where I was and direct me to the place I was intending to go to (or at least an escape route).
He is a cool dad - but we never saw the part of his life he spent on launches, we fought over the press gifts and the hotel slippers, and saw him sitting at his desk.
For us we knew him as an excessive tea drinker with a great love of his cat Lottie, as he generously loved all things.
Mon, 25/03/2013 - 17:07
#2
shuggiemac
Offline
I heard these words as they were spoken at the service and yet when I read them here again I find myself, once more, with a tear in my eye and I am not ashamed to say that.
Testmotor you are right he was proud and I too am absolutely positive that he still is.
Recent comments
In HONDA NC700X, kharli wrote:

In HONDA NC700X, kharli wrote:

In HONDA NC700X, Grump wrote:

In HONDA NC700X, kharli wrote:

In Lest we forget..., Captain Scarlet wrote:

In Captain Scarlet's next bike, malauder wrote:

In Captain Scarlet's next bike, Captain Scarlet wrote:

In Benelli 750 SEI, CCM wrote:

In Benelli 750 SEI, Gekom57 wrote:

In Benelli 750 SEI, Gekom57 wrote:

In Captain Scarlet's next bike, Grump wrote:

In Captain Scarlet's next bike, Navy Boy wrote:

In Captain Scarlet's next bike, Captain Scarlet wrote:

In Captain Scarlet's next bike, Grump wrote:

In HONDA NC700X, Grump wrote:

In Lest we forget..., Navy Boy wrote:

In Lest we forget..., unconventional rebel wrote:

In Captain Scarlet's next bike, unconventional rebel wrote:

In HONDA NC700X, unconventional rebel wrote:

In Lest we forget..., davvy wrote:
Donate to the Kevin Ash Fund
Kevin's funeral was held on Thursday 28th February 2013 and was well attended by family, friends and colleagues.
The Telegraph has very kindly established The Telegraph Kevin Ash Fund to assist with the education of Kevin's three daughters.
If you'd like to make a donation then you can use the PayPal 'Donate' button below which will allow you to donate from your PayPal account, or via credit or debit card. A small percentage (about 3.4%) will be retained by PayPal for the service.
Kevin's family have been touched by the generosity and messages of support from people using the website and would like to express their gratitude to those who have contributed in any way.
The donations keep coming in, thank you so much, and the family especially like it when you leave a message.
Recent Articles
We're familiar with solid-state electronics in biking. Ignition swapped points for transistors in the 1970s, then went digital in the 1990s. Now, the need for greater power, fuel efficiency and emissions control means modern engines only work with computer-controlled fuelling, ignition, combustion and exhaust. When we open the throttle we pull the strings, but the ECU calls the shots. To do it, the ECU needs an accurate view of the world. And it gets it through its sensors.
A gyroscope is a rigid circular or spherical mass rotating around an axis and for over 100 years motorcycles have come with three of them: a front wheel, a rear wheel and a crank (if you're being pedantic you could include cams, balancer shafts, gearbox, clutch etc). The classic mechanical model of a gyroscope ranges from the very small – electrons spinning around an atom's nucleus – to the very large – the Earth.
Most of us have an innate feel for balancing a high centre of gravity on a relatively short wheelbase. Say, like a motorbike. Its centre of gravity is the point at which the sum of the surrounding mass is zero, and is largely determined by the location of the engine, the heaviest part of the package. Usually the CoG is midway between the wheels (half the wheelbase) and 60 to 75cm off the ground; just above the engine, in front of your knees. Or at least it is until you get on.
Anyone with fingers knows bikes vibrate, sometimes strongly enough to make picking your nose impossible. But how we perceive vibration depends on its type, pattern, frequency and cause. Bikes are subject to different types of vibration. A bumpy road creates random forced vibration at medium to high frequency (around 5-35 Hz depending on vehicle speed). It's perceived as unpleasant, as is head buffeting caused by wind turbulence. Engineers and aerodynamicists try to minimise these bad vibrations. But we usually talk about engine vibration. There are many sources...
From the launch of Yamaha's new Super Ténéré: "The exhaust pipe connection between the two headers is discontinued to give more character to the engine. The link pipe gives a flat feeling to the curve, so removing it makes the engine a bit more peaky." This is all about exhaust gas. When a four-stroke is tuned for power it means more revs, and so the cylinders have thousandths of second to fill with fresh mixture, compress it, burn it and pump it out again. To get enough mixture in and out, inlet valves open early and exhaust valves stay open for longer – so both are open at the same time.